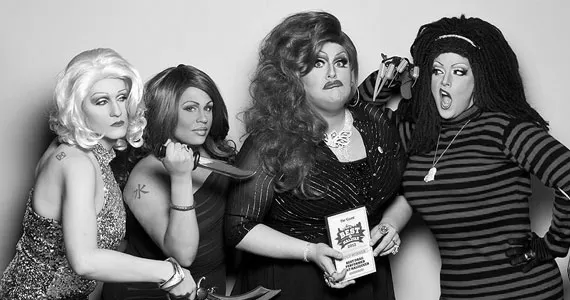 "Drag at its best will revive you," says Christopher Frazer, a professor at St. FX. Known onstage as C. Leah Cruise, Frazer is an old queen in the scene beginning research on the history of drag in Halifax. He says that even with the social and economic challenges of the last 50 years, the city's drag community here has been everything but a drag---it's been a ball.
Once called female impersonation, drag has strongly emerged from underground culture to mainstream in the last decade. Initially the domain of gay clubs---the first of which was The Turret, founded in 1976 at The Khyber---drag is now an accepted, exciting form of entertainment.
"Drag really took off here in the 1970s, like in most other places, because of the political insurgency of the gay liberation movement in America," describes Frazer, tracing drag back to 1900. "But one of the earliest performers was Ross Hamilton from Pugwash, who started during the First World War as a soldier."
He was recruited by The Dumbells to perform vaudeville for troops, appearing as Marjorie until after WWII. An early example, "It was a very different approach to the art form that we're used to now, but what he did was very common at the time."
By the 1980s, drag as we know it---sequined, glitzed and teased---had become popular in Hollywood and Off Broadway, creating an impetus for drag shows at Rumours, which moved to the Old Vogue Theatre in 1987. As a still-developing community, drag was exclusive in that era. "You had to audition before a board before you could perform in Halifax," says Frazer.
By the 1990s, with the founding of the Halifax chapter of The Imperial Court, the community opened up and the late LuLu LaRude (AKA Chuck Gillis) became a star of the scene.
"She had such a huge influence," says Rouge Fatale (AKA Jason Rose-Spurrell). "We all adored her. LuLu showed us what to do. She will never die as long as there is drag in this city."
With the opening of Club Vortex---renamed Club NRG---The Blue Moon, Reflections and Menz Bar, drag in the early 2000s was its most active to date. Pageantry, drag-a-thons and themed event nights were frequent. Frazer says the fundraising efforts of drag groups in support of the LGBTQ community have always been important.
Bar closures in recent years has meant more performances at non-traditional venues like university campuses and stages like The Casino.
"There definitely isn't a decline in performers as a result of the economic downturn," says Frazer. "But there are still untapped audiences."
In the last few years, drag kings (women who dress as men) have also taken prominence. "Every king needs a queen and every queen needs a king," says Rouge Fatale. "It's all full-on drag. It's empowering because people pay attention to a queen. When you see a six-foot-six glamazon walk with foot-tall hair, six-inch glittery heels and tits for days, it's hard not to hear what she has to say."
Rouge hosts several events during Pride Week, like the Festival Stage concert on Saturday. Her Sunday show at The Casino features extra-special guests.
"What drag does is confront and challenge," says Frazer. "In drag, you're breaking social conventions. It parodies and satirizes gender prejudices and stereotypes. It offers a vision of a different world and possibilities about how to be yourself. While we have a broader menu of rights now, queerness is still tough for many people. Drag is hopeful at the end of the day."