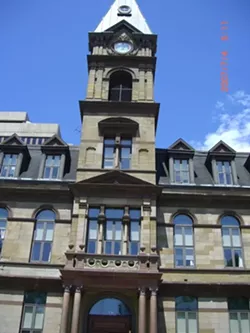 The potentially biggest news on Tuesday's council agenda was the proposed purchase of 22 new buses but, alas, that's been delayed two weeks, so we'll get to that in more detail when it comes back.
Here's the short version
.
Stormwater
The only issue of real substance left on the agenda was the decision of what to do with stormwater. We explained the general problem
a couple of weeks ago
, and nothing much has changed, but there was some interesting conversation this week.
That matter was brought forward by Steve Craig. In what's becoming a delightful habit, Craig offered up a long, and detailed motion, as follows:
It is recommended that Halifax Regional Council:
1. Approve the interim two-year stormwater infrastructure solution, including the Community Affordability Feature, as per the attachment;
2. Limit this annual financial commitment from the Halifax Regional Municipality (HRM) to a maximum of $3 million (Net HST included), sourced from the annual Halifax Water dividend payment to Halifax Regional Municipality; and
3. Direct staff to:
A. Jointly prepare, within two years, an Integrated Stormwater Policy, which includes an accountability matrix with respect to stormwater management; and a five-year stormwater infrastructure capital program with permanent funding options, for the consideration of HRM, Halifax Water, and the Nova Scotia Utility and Review Board (NSURB), for a permanent program; and
B. Provide bi-annual updates to the Environment and Sustainability Standing Committee and the Board of Directors of Halifax Water on completion and progress on identified outstanding responsibilities in the accountability matrix.
Interestingly, Craig spoke against the first part (#1) of his own motion, because it called for a two-year "pilot program" that would see costs shared a third each by Halifax Water, the city and private property owners. Craig objected to the private property owners paying to correct problems that were not of their making.
Craig is certainly correct that many private property owners are not responsible for the flooding on their properties. A typical case would be someone constructing or buying a home out in the sticks, and living there for years with no problems. But then development catches up with the area, and the city approves the construction of subdivisions or whatever around the original house. The new development causes more runoff then was the case back when the land was forest, and a lot of that runoff ends up flooding out the original homeowner.
There are many variations of this scenario. Maybe a drainage ditch was the right size for 10 houses, but when 100 more houses get built up the hill, it's now way too small. Or, a new drainage ditch meant to service a nearby subdivision is connected to the existing one... and on and on.
Problem is, as several councillors pointed out, the reverse situation is also true: many residents have lost their well water, through no fault of their own, but have had to pay to get city water mains extended to their neighbourhoods, and then pay again to connect to those mains.
For example, the people living in Monarch Estates in Fall River had perfectly fine well water, but as more and more house construction was approved by the city, the new houses also sunk wells, dropping the water table beneath the wells of the older houses. Halifax Water contributed half a million dollars towards the cost of extending the water main to the neighbourhood, but each resident also had to pay $25,000, and then another few thousand dollars to connect.
And then, on Giles Road, off Hammond Plains Road, blasting to make way for the nearby Bedford West development led to 10 residents having their wells fouled, and they too had to connect to city water, paying most of the cost of extending the water main.
Both councillors Barry Dalrymple and Tim Outhit, who represent Fall River and Bedford, respectively, pointed out that if private property owners were going to be exempted from paying for sewer improvements, then the Monarch and Giles residents should be refunded the money they paid for water improvements.
This went round and round for a while, and council eventually voted 9-8 to charge residents for stormwater improvements.
The other two parts of Craig's motion passed easily, with only reg Rankin opposing.
There is, however, one thing more that needs pointing out. The motion calls for the city spending up to $3 million annually to fix past stormwater problems. This is good and appropriate. But there's the implied notion that this will be paid for with "free money" because it comes from the annual Halifax Water dividend—essentially, the "profit" earned by Halifax Water and paid to the city.
But of course that $3 million is now going into city coffers and paying for transit, parks, police, fire, etc. And now it won't be. That's a real cost, either in increased taxes or decreased services, to the taxpayer. To pretend that it isn't a direct cost is to play a deceitful shell game.
We're just mentioning that because it illustrates that poor decision making today—approving dubiously designed subdivisions, for example—leads to real costs in the future.