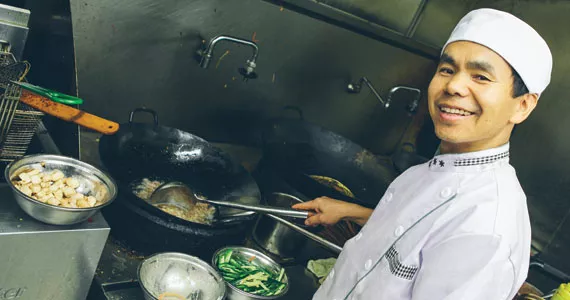 Yaeko Kawabata and Michelle Zou are blowing around the dining room of Jincheng in the tailwind of a lunchtime rush. Spicy sauces left in drips and splashes on now empty plates, scattered remnants of a birthday party that hunkered down at one of the big, round tables in the bright dining room, are still floral with heat.
The quick snicks of a knife ring out from the kitchen like swordplay as we sit down to chat. Jincheng is a burst of flavour on Dresden Row that has quickly become a destination for Haligonians who have been looking for a truly spicy dining option. And it has become a home away from home for Chinese students who have found a little corner of Halifax where they can find a genuine taste of Sichuan.
"It's pretty much always busy now," says Michelle, who works alongside Yaeko as a server in the family-run restaurant. "Sometimes even so busy the tables are all full and we can't have any more people."
"Sometimes we have hundreds of customers," agrees Yaeko. Yet they seem to remember everyone who walks in the door.
"There are some guys that come so often that I notice 'Oh, you got a haircut today,'" says Michelle, laughing.
The only draw back to the bigger crowds is the longer wait for food. "For this kind of authentic, we need a second chef. But there's only one chef," she says, referring to Daigen Zou. "He cuts the vegetables right before he serves every dish," she says. "That's why it takes a long time. It's very fresh."
Daigen is cooking from the heart, to what he considers is a totally different standard than the food he has cooked in other Chinese restaurants in town: it's the home cooking he grew up with in Sichuan.
"Some Canadians just don't know what Sichuan food is, and come for ordinary things like spring rolls, moo shu pork or Cantonese food," says Yaeko. What they are missing are dishes with savoury notes that go from nutty to lemony and garlicky, flowery and pungent spices, and the tingling, numbing spiciness of Sichuan peppers that weave their way through so many dishes.
"Oh my gosh, it's horrible," the restaurant's chef, Daigen Zou, laughs. "It's very spicy. I make people cry, you know."
He gestures towards a couple of guys---regulars, perhaps with new hair cuts---seated by the window, who look over between bites. "These guys would know even better than me," he jokes. It turns out that they've spent a fair amount of time in Daigen's home province.
"Exotic," one of them shouts from across the room. "If you use one word, it should be exotic. The flavours are like nothing else you'll get in Halifax." --MB