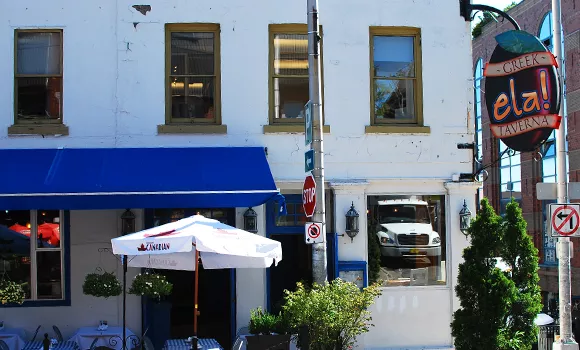 Argyle Street has lost one of it's sturdy bookends. Ela! Greek Taverna (formerly Opa) announced today they'd be shutting down their downtown location, effective immediately. That's right, sadly there isn't even time for one last souvlaki. A statement posted on the restaurant's website explained that the closure of the Argyle and Blowers resto would allow for greater focus on their two suburban locations (Bayers Lake and Dartmouth Crossing) as well as further growth outside of the HRM. And luckily, they were able to retain their staff.
The release goes on to say:
Downtown Halifax and Argyle street specifically has changed its facade. It is no longer a dining destination for Haligonians but for late night entertainment seekers. "We are sitting in a key location in the heart of the late night Entertainment District on Argyle Street and are confident that a new concept will be able to take advantage of the infrastructure fairly quickly."
This is sad news for downtown food lovers and downtown in general. We raise a glass of ouzo, and bid the Argyle Street Ela!, an 11-time Best Greek winner in our Best of Food survey, farewell.