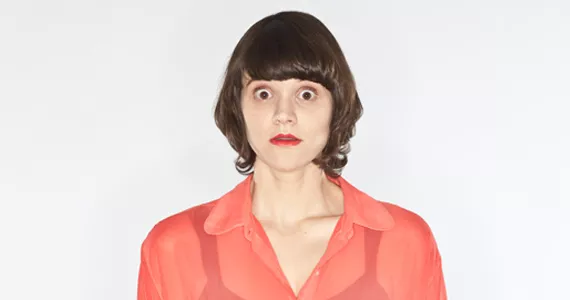 Women are allowed to vote, drive and have children out of wedlock, but is an all-female comedy show going too far? Local comedienne Andie Bulman doesn't think so, and would probably object to the narrowness of the word "comedienne."
"All types of women can do all types of comedy and it doesn't matter that they're women," Bulman says. "It just matters that they're funny. I noticed sometimes there would be only one female in the lineup of a comedy show and I would be like, 'Oh man, there's enough of us that we could just dominate all the time.'"
To that end, Bulman recruited some local, gender-appropriate comic talent---Emma Cooper, Megan MacKay, Sandi Rankaduwa, Catherine Robertson and Picnicface alum Cheryl Hann---for a show entitled It's That Time of the Month at the Company House on September 24.
One of the most notable things about the show's lineup is that the lineup is notable at all. "What I would hope for is that you wouldn't have to have an all-female comedy night to showcase female talent," says Hann. "I would hope that women could get on just as easily at any stand-up night as men could and they could perform together, and instead of saying 'This is the show the women do,' it could be 'This is the show the funny people do because we are all funny.'"
But in a world where Lucille Ball recently made headlines for appearing in a topless photo taken 80 years ago, female comedians face some significant hurdles.
Bulman, who will be opening for Delocated star Eugene Mirman at this year's Halifax Pop Explosion, says the stigma that women aren't funny prevents the stand-up community from growing: "A lot of girls come up to me after shows and say, 'Hey that's great, I've always thought of doing stand-up but I'm too nervous.' And I'm like, 'No, just do it. I know it's terrifying.'"
Hann agrees. "It is really terrifying the first time you get up on stage," she says. "You don't know if people are going to like you or your jokes or heckle you. I'm sometimes afraid I'm going to get on stage and someone's going to be like, 'Nice tits!' and I'll be like, 'Oh God, I don't know what to do now.' I'd say the only way to conquer your fear of the unknown is to make it known."
"You don't have to overcompensate because you're a woman when you tell jokes," says Cooper, a member of Halifax comedy troupe The Mind Diddlers. "You can just say, 'Look, the things I see are pretty normal things.' You don't have to pander to women and make it exclusive to get your laugh."
Cooper's biggest concern about stand-up is a genderless one: reading the room. Venue is a major factor in how comics approach their material. "Sometimes people want to hear you bare your soul. You get up and you're like, 'So the funny thing about tube socks...' and the audience is like, 'I hope when you were wearing those tube socks something really traumatic happened to you.'"
Audience expectations aside, Bulman is confident that "if you enjoy laughing, you'll enjoy the show." And that hopefully all the estrogen in the room won't prevent male comedygoers from attending.
"It's not like we'll be turning people with penises away at the door," says Cooper.
"Penises welcome," assures Bulman.
"Just not on stage," says Hann.