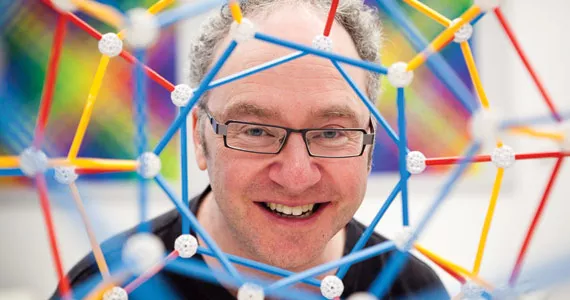 Jason Brown
Dalhousie University
On the homepage of Dalhousie mathematics, statistics and computer science professor Jason Brown's website, he states: "Everyone...can benefit from adding just a bit more mathematics to their daily routine."
For Brown, one of the best ways to do this is with music. While working on his undergrad, Brown would TA and research during the day, playing guitar in bands at night. As a university professor, he received worldwide acclaim when he used mathematics to solve the riddle of the opening chord to The Beatles "A Hard Day's Night." Since then, Brown's work has grown in popularity---he writes a science column for The Chronicle-Herald, and has penned a book on mathematics, Our Days Are Numbered: How Mathematics Orders Our Lives.
"I think people often miss the mathematics that's there and sometimes there is a fear of mathematics amongst the population that is really unfortunate," he says. "I think the opportunity that's been afforded to me because of the media attention from my Beatles work allows me to be an ambassador to mathematics, to explain to people that mathematics is not what people believe it to be."
Waye Mason
Nova Scotia Community College
Before he became the figurehead of local politics with halifaxpolitics.ca and his campaign for councillor of District 7, Waye Mason was a local scenester with strong business savvy. Dropping out of Dalhousie University in the early '90s to pursue a music career, Mason would go on to usher the Halifax Pop Explosion to wider acclaim, bring event promoter Ticketpro to the region and even start his own record label, the now- defunct No Records.
"I got tired of seeing bands banging their head against the brick wall of the music industry and my fatherly instincts kicked in and I started a record label," he says. "Teaching was kind of a natural evolution."
Joining NSCC in 2007, Mason has taught the ins and outs of the music business for five years while pursuing a Masters in business administration from SMU on the side.
But with election time fast approaching, Mason may soon be hanging up his professorial robes if the universe continues to have its way: "I think it's a sign from above that the election is on the last day of the Pop Explosion and the band I managed for four years"---Cool Blue Halo---"is reuniting and playing for the first time in 10 years."
Stephen Kimber
University of King's College
King's College journalism professor Stephen Kimber is a self-proclaimed "accidental academic." Unlike today's generation of journalists, Kimber didn't graduate from a university journalism program, let alone a university, but found himself in the field in his 20s, rising up the ranks while working for numerous newspapers and magazines across the country. It's this expertise that brought him to King's in 1979, and becoming a full-time professor in 1982. Since then he has remained at the school, writing critically acclaimed non-fiction and fiction works on the side, as well as contributing regularly to CBC, The Globe and Mail and The Coast (in fact, he helped shepherd the paper into existence 20 years ago).
"One of the nice things about teaching journalism is that you're encouraged to practice so you can bring that practice back in to the classroom," he says, "but one of the best things about teaching is that it forces me to think about what I do. When you have to try to explain it I think you sort of become better at it in some ways."
Laura Penny
Mount St. Vincent University, The University of King's College
Raised in Cape Breton, author/professor Laura Penny came to Halifax to do her BA at King's College in the early '90s.
"I had to learn English again," she jokes. "Swearing is actually my first language."
This theme found its way into the titles of her two books, 2005's Your Call is Important to Us: The Truth about Bullshit and 2010's More Money Than Brains: Why Schools Suck, College is Crap and Idiots Think They're Right, both written following Penny's return to the east coast to start a teaching career at universities across the HRM.
"Teaching has really reinforced my belief that editing is the only thing that makes writing good," she says. "One thing I can tell my students is that it doesn't get any easier, that editing always feels like you're going through your own shit looking for jewellery you swallowed earlier."
Dinuk Wijeratne
Dalhousie University
Born in Sri Lanka and raised in Dubai, it's amazing that composer/professor Dinuk Wijeratne would end up calling Halifax home. Taught at the acclaimed Royal Northern College of Music in Manchester, England, Wijeratne went on to perform at New York's Julliard School, Carnegie Hall with Yo Yo Ma and across the world from Berlin to the Middle East to Japan. But it was the "warm, easygoing vibe" of Canada's east coast that brought Wijeratne to Halifax, teaching at Dalhousie University and Acadia, and now with the Nova Scotia Youth Orchestra.
"I think theoretically you can't teach anything," he says. "All you can do is create opportunities for people and show them how they can excel if the opportunities are right and then let them go out into the world and make the opportunities for themselves."