Today I'm at at Utility and Review Board hearing, following an appeal Olympic International Realty Ltd. has filed against a 2006 Northwest Community Council decision related to phased development in the Paper Mill Lake.
It doesn't get much more obscure than this, and the story gets quite convoluted. I won't now get into this in great detail, but I do want to mention the broad outline of the case, because I think it illustrates something important.
This story starts with a fellow named Ali Ahmadi, who was for a while in partnership with developer Navid Saberi. Another Ali, Ali Roshani, testified today that Ahmadi named the company "United Gulf Developments," after Ahmadi's home country of Kuwait, the reference being to the Persian Gulf. "He had a billion dollars," Roshani said of Ahmadi.
United Gulf bought a big parcel of land east of the Bicentennial Highway, west of Paper Mill Lake, south of Hammond Plains Road and, roughly, north of Oceanview Drive. I've noted the area generally, on a Google maps:
Way back in 1995, the previous owner of the property proposed development of the area, as shown in this map: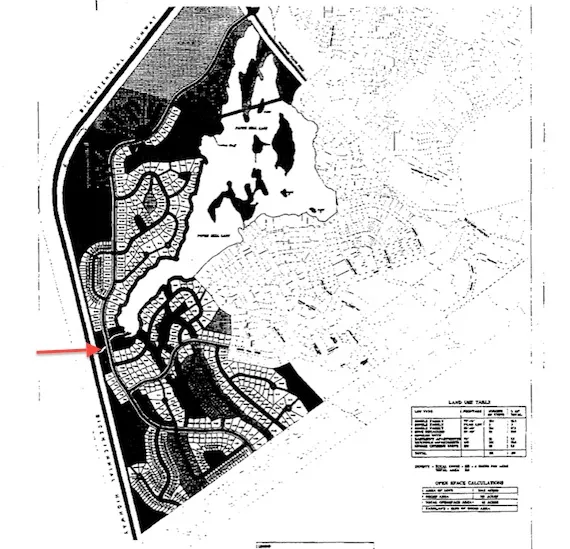 The red arrow points to Kearney Run, a small stream that runs from the west of the highway to the lake, and which bisects the property.
Note that until recently, Larry Uteck Boulevard, and its intersection with the highway did not exist. In 1995, the former town of Bedford was worried that development of this property would result in lots more traffic being dumped on the Bedford Highway, and so adopted a planning rule: the property could not be developed until a collector road was built from Moirs Mill Road to Hammonds Plain Road, something like this (in red):