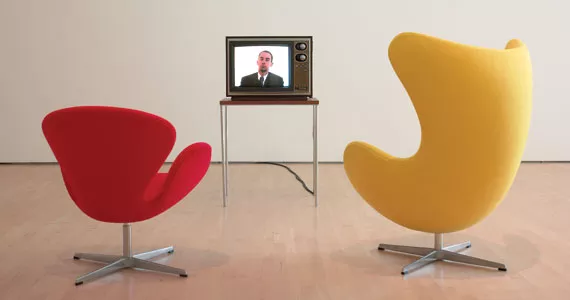 To July 8
Sounding Selves
Immerse yourself in Dalhousie University's Sounding Selves, an exhibition sure to induce a sensory overload of the best sort. Artists explore subject matter ranging from the inaudible sounds of bats, an air raid warning sung by a Vienna Boy's Choir treble, to the musicality of language itself, providing a broad survey of the rich and complex aural experiences in our lives. But Sounding Selves is just as much about making noise as it is about listening, embodying and interpreting sound, including works by artists such as Jani Ruscica, Anri Sala, Jana Sterbak, Benny Nemerofsky Ramsay and Antonia Hirsch.
One of the highlights of the exhibition is Finnsih artist Jani Rusica's works, "Batbox/Beatbox"---Rusica juxtaposes two seemingly dissimilar worlds with a video installation: a researcher transcribes the echolocation of bats, imperceptible to the human ear; on an opposing screen, beatboxers and a spoken word artist use hip-hop to interpret and navigate New York City.
"The exhibition explores the manner in which sound takes on social, cultural and political resonances that are foundational to communication," writes Heather Anderson in her curator's essay, "the formation of identity and the expression of self."
Dalhousie University Art Gallery, 6101 University Avenue, 494-2403, artgallery.dal.ca
---
To August 12
Soft
Soft explores materials associated with the domestic sphere, displaying textile-based work that Mount Saint Vincent University Art Gallery collected over the past decade, as well as some less expected choices. "Soft is the sixth in a series of exhibitions designed to prompt conversations between works from the MSVU collection," explains co-curator Katie Belcher. The exhibition provides you with a chance to take in works ranging from Anna Torma's embroidered fabric collage---depicting whimsical flowers and cartoon-like female characters---to Gary Markle's playful floor landscape of squishy, conical spikes. Rhonda Weppler's and Trevor Mahovsky's aluminum foil cast of a shopping cart lies on the gallery floor like the rejected skin of a snake, bending and warping slightly with age, inciting the connection between aluminum foil and domesticity. Coleen Whitten's aluminum and glass bead wall hanging takes the notion of "soft" quite metaphorically, as the soft quality comes from the comforting message she spells out: "There there," not the material itself. "The works resist structural fixity," explains Belcher, "some through their soft material and others in their surrender to gravity."
Mount Saint Vincent University Art Gallery, 166 Bedford Highway, 457-6291, msvuart.ca
---
To September 9
Skin: The Seduction of Surface
Contrary to popular belief, Lady Gaga was by no means the first to rock a meat dress. Back in 1987, when Gaga was still in diapers, Jana Sterbak was gazing sulkily at viewers in her flank steak dress for her piece "Vanitas: Flesh Dress for an Albino Anorectic"---a sculpture she's recreated on a dressmaker's dummy for the Art Gallery of Nova Scotia. Watch the meat sculpture age in the gallery before your very eyes, along with over 50 other works by more than 20 artists in the AGNS' large-scale exhibition, Skin: The Seduction of Surface. Though definitely an extensive exhibition, the artwork is broadly tied together by the fact that works probe into what lies just beneath the surface, the concept of 'skin' emerging as a layer that has the power to denote identity, viscerally tell a story, attract and repulse. View a wide range of works ranging from Vito Acconci's 1970 prints "Trademarks"---documenting the artist biting his own flesh---to Kathleen Sellars' "affinities, 1b and 1c." Sellars' sexless cast-silicone torsos face one another---one covered in nipple-like forms and the other with bristly hairs. Plus there's a touch room, where you can shove your fingers into strange orifices on the wall and discover weird slippery and furry textures.
Art Gallery of Nova Scotia, 1723 Hollis Street, 424-5280, artgalleryofnovascotia.ca
---
July 20-August 17
Peter Thompson, "THE DAILY PROCEDURE"
When it comes to daydreaming, "obsessive doodler" Peter Thompson is in a league of his own, with subject matter ranging from pipe-smoking gentlemen to confused, tentacled beasts to pig-nosed kings swirling amongst geometric forms. "In the same way that we all need to eat and breath, and get dressed everyday, Petey has to draw," explains co-owner/co-curator Dave Hayden (who's also a Coast contributor). "It is such a fabric of his being that holding a pen in hand is not just a daily ritual but a necessity."
The prolific artist creates highly detailed works full of unexpected twists and turns, highlighting his improvisational imaginative process. It's an obsession that has lead him to collaborate with the likes of Marc Bell, Jason Mclean, James Kirkpatrick, Beau Labute, Jamie Q and a long line of other artists. The (((Parentheses))) show marks his first trip to Halifax and it seems we should consider ourselves lucky: "Although extremely prolific...he shows very rarely except for occasional group shows with his fellow collaborators," says Hayden.
(((Parentheses))) Gallery and Art Projects, 2180 Gottingen Street, 403-3932, parentheseshfx.tumblr.com
---
August 24-October 14
Ehryn Torrell: Self-Similar
Ramshackle apartments, industrial wastelands, cheap high rises and creepy stairwells---these are the stomping grounds for Canadian painter Ehryn Torrell's imagination. Torrell explores the human experience through the lens of our built environments. More often than not, her acrylic on canvas paintings don't contain people. Rather, it's the marks we leave on our environment---and the implied imprints of our environment on us---that communicate the most. Her paintings of collapsing buildings can capture feelings of helplessness and self-implosion; her imagery of peeling paint exposes issues of neglect and vulnerability; while her depictions of impossibly high apartment buildings can induce feelings of claustrophobia.
Much of the artist's work is inspired by her travels. In 2008, she witnessed the aftermath of the Beijing earthquake, which transpired just five weeks after the summer Olympics. Viewing the wreckage and total havoc caused by the earthquake prompted Torrell to create a series of paintings tackling issues ranging from gentrification to catastrophe and necessity, communicating both feelings of empathy and alienation.
Saint Mary's University Art Gallery, 923 Robie Street, 420-5445
---
September 1-29
World Portable Gallery Convention
Michael McCormack has long had an affinity for portable galleries, even creating a gallery in a suitcase found in somebody's garbage---The McCleave Gallery of Fine Art---back in 2002. It should come as no surprise, then, that Eyelevel Gallery will be your local stronghold for World Portable Gallery Convention 2012, an international event highlighting portable and alternative gallery spaces. Eyelevel gallery will act as a "taxi stand," connecting gallery-goers to portable and alternative venues on a "by chance or appointment" basis, explains McCormack. Dan Joyce and Miriam Moren will exhibit artwork at 161 Gallon Gallery---a cube-shaped closet in their home that can fit a volume of 161 gallons; Craig Leonard will be exhibiting artwork on his jacket, the Velcro Gallery (why not!); Paul Hammond and Francesca Tallone will lure you into their miniature exhibition space, Gallery Deluxe Gallery and Gordon Isenor's Alopecia Gallery---a space also known as his face---will feature work by Emily vey Duke and Cooper Battersby. There'll be international visiting curators as well, such as British artist Kate Rich---who'll serve up coffee with her Feral Trade Cafe---and Hans Ulrich, whose Nanomuseum is apparently "the smallest museum in the world."
Eyelevel Gallery, 2159 Gottingen Street, 425-6412, eyelevelgallery.ca