BAND OF GOLD
After decades of making custom jewellery, Bradshaw still aims to tell a story with his creations. Here, he contrasts colour and texture to make a bold statement.
James Bradshaw | 1551 Birmingham Street | 425-0121 jamesbradshawgoldsmith.com
PRINT CHARMING
For this truly one-of-a-kind pair of rings, goldsmith Dana Grund used the couple's fingerprints to accent their white gold bands.
Grund | 2697 Robie Street | 406-0077 grund.ca
GOING DIAMOND
These white-hot, white gold bands are a Canadian-made take on the traditional.
Touch of Gold | 5640 Spring Garden Road | 423-5600 touchofgold.ca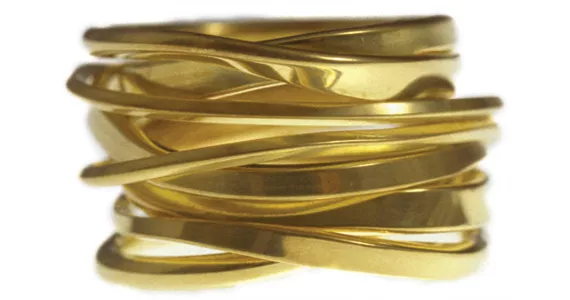 ONE LOVE
The unique and handmade Onefooter ring uses one foot of gold (or silver) forged in various directions, then wound in a continuous loop.
Dorthée Rosen | Various locations | 422-9460 dorotheerosen.ca