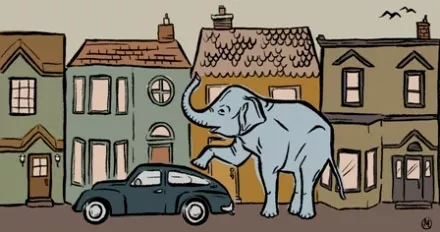 Most of the advocacy of the environmental movement focuses on governments. Industry is more likely to be the target of protests and boycotts than gentler forms of persuasion. There are good reasons for that. As difficult as governments are to access at times, no one does secrecy and closed doors quite like the private sector. Trade secrets and all that.
And yet, private companies control much of the world's resources and thus have a phenomenal environmental impact. Ergo, they have at times the greatest capacity to reduce humanity's environmental footprint.
It's a bit of a double-edged sword. To twist Pierre Trudeau's old analogy about the United States, inviting Walmart into your neighbourhood is like letting an elephant out of the zoo. No matter how tame and good-natured the beast its sheer bulk is an unpredictable danger. No matter how many "green" products it carries, its global scale and low-price law is bound to put somebody underwater somewhere.
But, with the stroke of an Arkansas pen Walmart's on-staff greenwonks can create a greater reduction on environmental impact than many national governments, with less red tape in the way.
Walmart, the largest public corporation on Earth by revenue, and the world's largest buyer of organic cotton by the way, makes a great symbol of the quagmire facing large corporations, which bear the single responsibility of making as much money as possible. In a capitalist system, corporate social responsibility becomes a publicity exercise rather than a means of real change. And so, barring a significant alteration of capitalism itself, we need to demand change as consumers.
But there is, amidst these impossible roles---of consumer, activist, entity---a new niche. In Halifax, the Summerhill Group has been quietly building practical bridges between corporations and people since 2008, with significant impact. The company is headquartered in Toronto and also has a Regina office. Dartmouthian Scott Skinner was hired last year to head up the new Nova Scotia office.
Summerhill delivered five programs and one pilot program on behalf of Efficiency Nova Scotia in 2011, saving about 40 million kilowatt hours---and 32,000 tonnes of greenhouse gases---a year by replacing half a million old, energy-inefficient products with new ones. Skinner estimates that the energy savings is equivalent to taking 3,300 houses off-grid, for a cost savings of $5.3 million.
Summerhill tracks these numbers meticulously. "The stated goal is to transform the energy market," Skinner says. "But if you're going to take credit for change you have to be sure you caused the change. We need very clear indicators."
The most remarkable thing about the numbers is that they come mostly from small changes in the homes of many people. A typical Sumerhill campaign consists of a couple of summer students at Home Depot offering people $3 off an energy-efficient lightbulb or low-flow showerhead, or maybe $100 off a washing machine. In an age when hundreds of millions of people can get a quick-and-dirty education about specific issues, programs and people via social media, Summerhill has found that nothing is more persuasive than face-to-face, point-of-purchase conversation, with a little discount for good measure.
The approach adds the credibility of the outsider to in-store marketing campaigns, and lets companies and Efficiency Nova Scotia focus on their bread and butter. Summerhill takes care of the labour, training and logistics.
The Halifax office is a small operation, but it's creating some of those "green jobs" pols like to talk about. The handy educated workforce is part of what drew Summerhill here, says Skinner. That workforce, in turn, focuses on educating consumers.
"The homeowner looks for value but doesn't calculate return on investment," Skinner says. "Not many people trace their energy footprint back to Colombian coal. We need to give them those tools to make the connections."
Summerhill has been operating here for four years, but only recently made its presence tangible, with an office on Granville Street. Its official wine-and-cheese launch will be on June 14.
Chris Benjamin is the author of Drive-by Saviours, a novel; and Eco-Innovators: Sustainability in Atlantic Canada, which is shortlisted for an Atlantic Book Award.