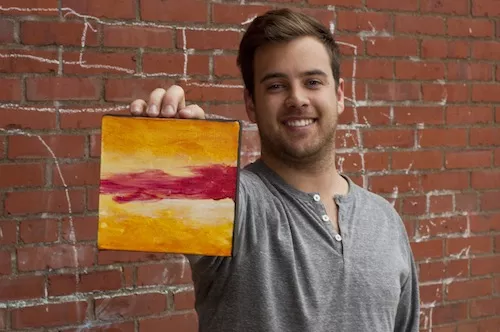 It started out as a joke. A light-hearted argument among friends. That contentious debate about what really makes an artist. But when Jake MacDonald told his friends you could "put your penis in some paint and slap it on a canvas," and that could be considered art, they didn't exactly expect him to, um, follow through with it.
Yet almost two months later, Jake MacDonald's Six Inch Art Show—a silent auction to raise money for prostate cancer—is taking place, featuring 15 of MacDonald's original pieces of artwork. All of which are abstract acrylic pieces created on six-by-six-inch canvases (save two that are a little larger), and painted solely with his penis. Yes, you heard me. His penis. Oh, and his testicles too.
No paintbrushes here, folks.
MacDonald painted the first piece after that fateful argument to prove a point, presenting his friend with a member-crafted masterpiece. "He said, 'well, I don't think that really counts. I don't think you're really an artist now,'" recalls MacDonald. And when asked what would make him an artist, his friend said he needed to have an art show.
The show's taking place at 7pm tonight (Wednesday, April 18) at La Trinidade & Listening Room (5171 Salter Street). All proceeds raised during the auction will go towards prostate cancer.