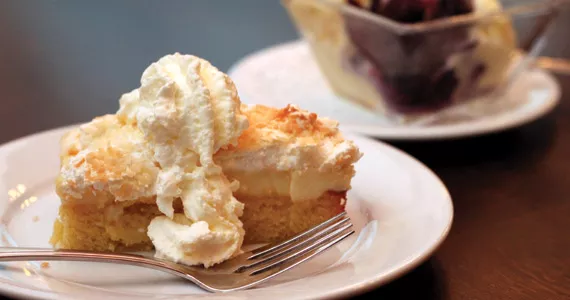 Italian food is a pretty great concept for a restaurant: the food is simple, the flavours are easy and the ingredients are accessible. But there is a huge gulf between the idea and the reality of a great Italian restaurant. And there are easily more restaurants adrift in that gulf of mediocrity than there are establishments buoyed by an authenticity in execution.
La Cucina Cafe Pizzeria and Spaghetti House feels like a restaurant anchored in the box restaurant idea of what Italian food is. Not surprising, perhaps, since it is in Dartmouth Crossing, a place defined by thinking inside the box.
Typical of the shopping park's sprawling labyrinth of stores, the restaurant is big and boxy, with tall creamy walls that lead to incredibly high ceilings. A warmth is brought by decorative copper ceiling tiles and chandeliers that give a little old-world nod. Mall art---old Italian-themed posters--- adorns the walls, the highlight being a framed print of Lady and the Tramp.
Our server drops by with our menus quickly. She's very nice, and very attentive, giving us enough time to go through the extensive menu and chiming in on her favourite of the house wines. ("The merlot," she breathlessly replies, when asked to choose between it and the local option, almost grimacing at the other.)
We order the Rustico pizza ($12), pollo di pesto ($12) and lasagne al forno ($12), and it's quite a long wait. We don't see our server again for around almost half an hour, when she returns with our dishes and a little loaf of hot, crusty bread served with garlic butter. It would have been nice if it had been served during the long wait.
The pizza is not bad. The dough is very bready, and comes across quite homey. The heavy doughiness---it could have used five more minutes in the oven to get a bit of crispness---and lack of airiness in the cornicione prevents it from being a truly great, or even good, Italian-style pizza. The combination of toppings---hot Italian sausage, peppers, tomatoes, onions, a more-than-healthy dose of cheddar, mozzarella and parmesan--- combine into something more bland than I expect, rescued with a heap of fresh black pepper and dried chili flakes.
The pasta is also bland. The pesto cream sauce is watery, and lacks the bold, sweet pungency of basil found in a really well executed pesto. The chicken is nice, though, and little rosy pops of sundried tomato add a bit of excitement.
The lasagne looks individually cooked, a long, squat strip instead of the hearty tower one might see if cooked as a casserole. Not bland as the other two dishes, the sauce here is almost Dead Sea-salted and a heavy-handed use of dried spices gives the dish an overall tinny taste. Thankfully the decently priced merlot ($5) dulls the pain.
We end the meal with a split of two desserts between the three of us---the lemon square ($6) and the vanilla bean gelato sundae ($6).
They're great. The gelato suffers from some crystallization, but the blueberry peach compote is freshly sweet with pops of crunchy candied pecans. The lemon square is flat-out delicious: a crust of shortbread and a coconut-crusted meringue on the top sandwich a tart and sweet lemon cream that puts an exclamation point on a meal that has been, until now, a bit of a question mark.
La Cucina is by no means a great restaurant, but it's a good restaurant and that's good enough for where it is. If nothing else, it's a nice spot for a decadent dessert if you find yourself in Dartmouth Crossing.