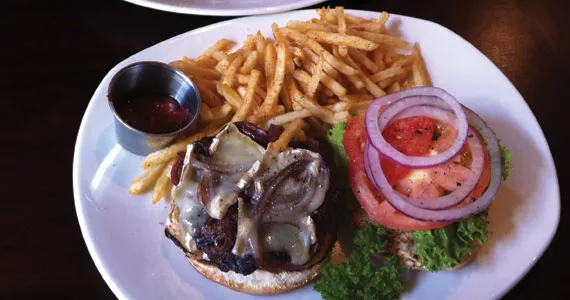 It's 3:30pm on a Saturday. Though Bâton Rouge's patio is bright and sunny, it's exposed to the chilly September winds, so I head inside to the dining room. I'm greeted by several friendly staff and given the option of a table downstairs in the lounge or the top-level dining room. Since my friend is late, I get to decide where we sit. There's plenty of choice in the lounge; at midday, only one booth is occupied. I spot a table by the window bathed in sunlight and settle into the seat to await my friend.
I order a coffee ($3), which tastes like bitter coffee grounds, and take a look around. The bar is constructed of dark wood and the booths are covered in deep red leather, which is smart, since the colour red is known to excite the appetite. The restaurant is housed right downtown in the old Morse's Tea building, and its original brick and stone walls and rustic exposed beams add to the historic air, even though this Bâton Rouge is one of the newest in the chain of 30 restaurants across Canada.
My friend arrives and we start checking out the menu. Our server is very helpful and quick to assist in making recommendations. We decide to order off the lunch menu offered until 4pm, though the dinner options are also available now. After a quick consultation, I settle on the brie burger ($13) with fries, while my pal chooses the 10-ounce ribs ($17) with coleslaw.
Our lunches arrive quickly---within 10 minutes of placing the order. My burger looks pretty good: served open-faced, the eight-ounce patty is topped with melted brie and caramelized balsamic onions, lettuce, tomato and red onion. But as I start to put it together, I notice that it's devoid of condiments. I ask the server for some kind of sauce and she obliges with the house-made dijonaise---essentially, dijon mustard and mayo mixed together. It does the trick.
The patty, on the other hand, is just OK. The beef is under-seasoned for my taste, and although it's cooked well, it isn't the juicy type of burger that you'd expect from a restaurant specializing in meaty items. I really like the shoestring fries; they're crispy and seasoned with salt and pepper for an extra kick. Though I could have eaten a plateful of these fries, they're a little puny for a rib joint.
My friend's ribs are alright, although they certainly didn't fall off the bone. The house barbecue sauce is nice; there's plenty of deep, dark molasses and a bit of smoky hickory flavour as well. His side of coleslaw is made up of the usual suspects: green cabbage and carrot. It looks pretty tasty, but it's actually quite bland and I notice he grabs the salt shaker once or twice.
When the dessert menu appears, we both push it away, unable to eat another bite. But we notice one of the neighbouring tables has ordered the key lime pie ($7), my friend's favourite, so we come back a few nights later to try a slice. It's decadent, with a sweet graham cracker base, the smooth pie filling has a consistency similar to that of cheesecake. The lime flavour is vibrant and evokes the olfactory association of the essential oils that perfume the air when you zest a lime. Topped with real whipped cream and toasted coconut slivers, it's a taste of the tropics that's over before you know it.
After this second visit I appreciate elements of Bâton Rouge---the beautiful interior space and the incredibly friendly staff---but that's about it. The food is mediocre, and when a restaurant's signature dish (the ribs) fall flat, it doesn't really encourage me to go back. And though some elements were tasty, I think next time, I'll try another restaurant's piece of the pie.