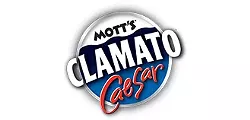 T hough summertime may look a little different, let this be the year of relaxing in homes away from home, of embracing the intimate moments with each other, and being grateful for the things that go unchanged, like our favourite warm weather staple Mott's® Clamato® Caesar. Because Canadians know that even when times are uncertain, they can count on their official cocktail to see them through.

So before you pack your bags to the brim, leave room for the ideal cottage stowaway. The options are endless! You may grab a classic Mott's® Clamato® mix and DIY your Caesar to your liking, a premixed Mott's® Clamato® Caesar with alcohol to enjoy immediately, or take it up a level with their new Reserve product.
Just like there isn't one cottage for everyone, there isn't a one-Caesar-fits-all; customize the classic Caesar recipe below, or head to the Mott's® Clamato® website and get fancy with a Pomegranate Caesar, a Whiskey & Sage Caesar, or other creative recipes listed. You can take the quiz to find your perfect Caesar recipe here!
Which cottage (and Caesar) is calling you?
Mott's® Clamato® Classic Caesar Recipe
Ingredients:
4 oz Mott's® Clamato® Original Cocktail
1 oz vodka
2 dashes hot sauce
4 dashes Worcestershire sauce
3 grinds fresh cracked salt and pepper
Rim: celery salt or Mott's® Clamato® Rimmer
Garnish: celery stalk, lime wedge, shrimp, or bacon
Instructions:
Rim a tall glass with the Mott's® Clamato® Rimmer
Add the vodka, hot sauce, Worcestershire sauce, and fresh pepper
Add ice, then pour in the Mott's® Clamato® The Original
Give the cocktail a good stir to incorporate all the flavours. Garnish and serve!
Cottages to enjoy this summer near Halifax:
Oceanside Home within the City
This seaside cottage is an outdoor enthusiast's sanctuary. It's perfectly situated on the popular cycling route around Herring Cove/Sambro Loop, so you can spend all day trekking about and come back to this haven for some R&R. It's the hanging hammock and hot tub with an ocean view for us that does the trick for us.
Location: Herring Cove
Price: $199/night
Guests: 5
Distance from Halifax: 15-minute drive
Let's get away! This converted '70s cottage is the exact place to jet off to when you've been working long hours and need an extra-long weekend to unwind. This is the place where you'll want to stick around the property; float on the lake, kick your feet up on the dock, or listen to some tunes on the turntable and let time pass you by.
Location: Mount Uniacke
Price: $190/night
Guests: 4
Distance from Halifax: 40-minute drive
---
If you're looking for that "homestead in the woods" vibe on vacation, we've found it. Not to mention this cottage is dog friendly, so you and your furry friend can live out your rustic farm dreams. Wake up to deer in the yard, cook up a county-style breakfast, enjoy the three acres of fenced in area, have some snacks by the fire, and then finish the day off with a relaxing dip in the clawfoot bath.

Location: Lunenburg
Price: $250/night
Guests: 7
Distance from Halifax: 1 hour
---
Say hello to summer BBQs and porch breakfasts at this peaceful and charming remodeled cottage. Steps away from the beautiful, sandy sea, you won't be able to resist jumping in. This cottage is the ideal vacation spot for those who love to still be close to the action while away. Get out and explore Peggy's Cove, play a round of golf on the nearby courses, take a hike, and treat yourself to some local dining.
Location: Shad Bay
Price: $150/night
Guests: 5
Distance from Halifax: 20 minute drive
---
Spa lovers, this weekend stay is perfect for you. Located just 15 minutes away from the infamous Sensea Nordic Spa, you can spend the day relaxing in the pools and then come back to this cottage and keep the relaxed vibe going. The thoughtful touches around the home make it chic, yet comfortable, with their touches of nautical novelty and a twist of modern rustic.
Location: Western Shore
Price: $180
Guests: 4
Distance from Halifax: 51 minutes
Did you enjoy a Mott's® Clamato® Caesar at any of these cottages? Let them know by tagging #SummerTimeCaesarTime in your photos, and link them on IG or Facebook!
This content has been developed and paid for by Mott's Clamato, without involvement from The Coast's editorial department.