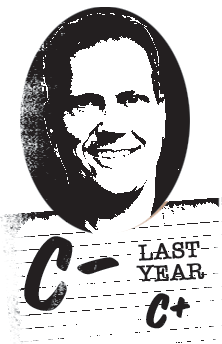 2010 grade: C+
2009 grade: N/A
Darren Fisher is becoming something of a dead fish at council. Like his suburban Dartmouth counterpart Lorelei Nicoll, Fisher kind of, er, flounders about at council. The newest councillor, having replaced Andrew Younger (who went to Province House) in a by-election last year, Fisher never really says much, never really does much, with the sole exception of joining McCluskey as the only two votes against The Oval.
Along with councillors Hum, McCluskey, Karsten and Nicoll, Fisher left the budget hearings last month, to attend a photo op for a recycling initiative. This is bad, bad, bad. The annual budget hearing is one of the most important things a councillor does, and it should taken seriously.
Fisher appears to be approaching not just the budget hearing but also his entire career as councillor as a photo op. At the beginning of each meeting, councillors stand up and give "community announcements" about fish fries and charity runs in their districts, and let me tell ya, Fisher can give an announcement like nobody's business: He stands up, rigid spine, facing the camera, deep voice and heartfelt sincerity about a prostate cancer dinner or some such. I don't begrudge councillors this bit of TV face time, but they're really supposed to do something else at council.
How to improve: Express an opinion. Maybe two opinions.