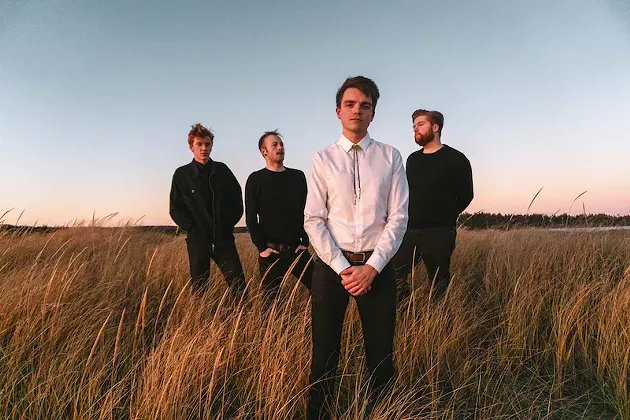 H

e's been, it feels, a star poised to shoot from the start: Selling out spaces like The Carleton to fellow students to see their favourite indie-folkster sing about love and growing up. Winning prizes like the Best of Halifax Readers' Choice Award for Best New Band and the SOCAN Award For Young Canadian Songwriters. Earning (and ultimately outgrowing) comparisons to a young Justin Bieber for his clean-cut look and sound.

Yep, for

Braden Lam

and his band Driftwood People, success has proven to not be a question but an assertion. "It's easy to be a student band and keep playing in the bubble of campus but we've done a good job of pulling students off-campus and pulling other people into our fanbase," he

told The Coast

when notified of his Best of Halifax win last November.

Lam and the Driftwood People have kept busy, touring and working on new tracks while they waited for you to notice them. But now, the band is back in Halifax—ready to hit the stage

Friday Jan 24 at The Seahorse Tavern

, opening for The Town Heroes. Before he does, though, Lam takes five to fill in an updated version of The Coast's questionnaire:

1

What is the most non-negotiable part of your pre-show routine?

We share a bag of goldfish. Non-negotiable. Well, actually, Nick eats most of the bag and the rest of us get a couple. Legend has it that if one of us doesn't eat any goldfish pre-show, then something will go wrong on stage (broken string, out of tune bass, cables unplugged). I don't believe it, but the majority are convinced.

2

Tell us about a TV show or movie you're totally obsessed with right now?

I'm currently binging

Suits

on Netflix. I never thought a show about lawyers could be so interesting, but all of the tension and witty-ness of the storyline make it SO good.

3

What is the best Instagram account you follow?


My friend

@emmett_sparling

from Vancouver does amazing travel photography all around the world. I've got mad respect for him being completely self-taught.

4

What was the first album you ever bought with your own money?

Backstreet Boys'

Millennium

(1999) on cassette. Probably got it at the thrift store in my hometown called Chances Are. I distinctly remember playing this album and some NSYNC in my bedroom as a kid—I'm only 22 years old now, so I grew up with a lot of the early 2000s music. I wouldn't say it was very formative for my own music though, haha.

5

If you were a meme, what meme would you be?
6

Tell us about the best live show you've ever been to.

Front-row seeing Tim Baker play at the 2019 ECMAs in Charlottetown. This was the first time a performance actually brought me to tears. I've seen Tim play in Hey Rosetta! before as they were such a big influence for me in high school. But something about Tim's new songs and the timing of when the album came into my life, it was a really overwhelming moment for me in a really special way.

7

How would you describe your music/sound in a sentence?


I'm driving in a car with the windows down as the rolling fog brings a refreshing sense of peace mixed with the smell of the ocean.

8

What's the best part of being in a band/being a musician?

When folks come to our shows and feel like they can be themselves, catch up with friends, and have a good time. It's definitely a huge privilege to be able to facilitate events that bring community together. Witnessing that happen and knowing you created a memorable experience is the best part.

9

Screenshot your Spotify heavy rotation—or tell us a couple of albums/artists you can't stop listening to. I Need to Start a Garden

- Haley Heynderickx

Stranger in the Alps

- Phoebe Bridgers

Earthtones

- Bahamas

Forever Overhead

- Tim Baker

Heard it in a Past Life

- Maggie Rogers

10

Fill in the blank: if you weren't making music, you'd be _____________.

Running a cute coffee shop that doubles as a bar and music venue at night in downtown Halifax.