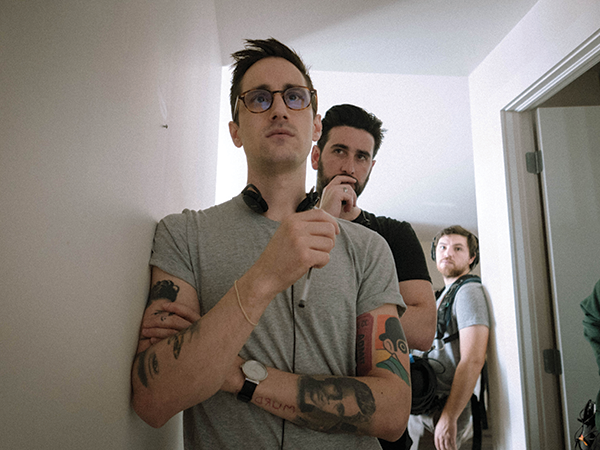 The story of closeted gay movie star Syd Stone—brought to life in the acclaimed 2014 short film I Am Syd Stone—is set to continue in a new, expanded format.
For writer/director Denis Theriault, the follow-up to his short—based partly on his experience as a gay man in the film industry—was an opportunity to show fans what became of the tragic character.
"A lot of people were wondering what's up with Syd today. They want more," says Theriault. "So I said, 'Hey, let's explore where Syd is in his life at this point in time.'"
Theriault says a new chapter in the Syd Stone story is also a chance to give his character a new ending: "It ends on a much happier tone," says Theriault, referring to the short's downbeat conclusion. "But at the same time there are lessons learned, as in any story."
The original short features Stone, played by Gharrett Patrick Paon, returning to his hometown for a high school reunion. Isolated in his hotel room, Stone tries to reconnect with a past lover who knows him beyond the facade of his public persona.
The short has amassed over one million views online and was nominated for several awards, including the Iris Prize.
In the series—set five years later and shot in Halifax over 15 days—viewers find Stone shooting a film on location. Sequestered in another hotel, he forms a relationship with a young lawyer and is forced to confront past trauma stemming from his repressed sexuality.
Paon is also returning to the project as producer with his company Rebel Road Films. Stone will be played by Travis Nelson, who appeared in 2011's Tucker & Dale vs. Evil.
"It was definitely important for me to find the right person who would bring something different, new and fresh that I couldn't," says Paon. "And once we saw Travis' tape we both knew instantly that he was our guy."
The decision to revisit the Syd Stone story in the form of a seven-episode web series was a calculated one by Theriault and Paon.
"The longer format allows for us to have much more developed stories and characters," says Theriault. "You get to really know and understand where Syd is coming from."
"Fundamentally our audience lives online," adds Paon. "I think the easiest way to get this project to as many people as possible is for it to live online."
The filmmakers say the series will be accessible to new viewers unfamiliar with Syd's backstory, but there are references to the short that original fans will appreciate.
"There are call-backs to it that people who've seen the short will hopefully smirk at and acknowledge and feel like they're part of a little secret," says Theriault.
Filming began in Halifax on November 27. The project does not currently have a release date, as Theriault and Paon plan to bring the series to market some time after it is complete.