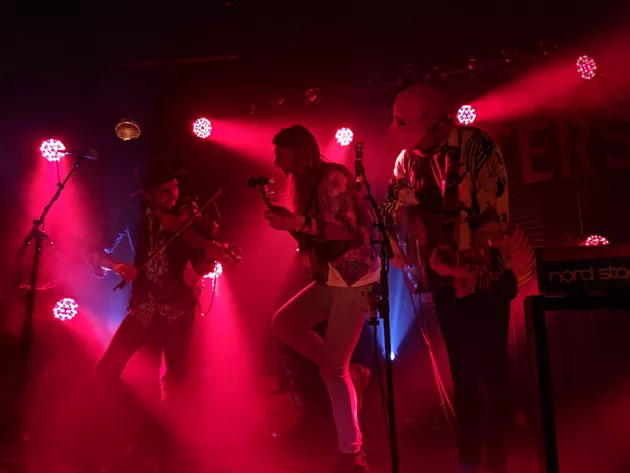 T
he energy was high, the floor was packed and the drinks were good when The East Pointers took to the stage at the Marquee Ballroom on Nov. 29.
A contemporary folk trio from Prince Edward Island—consisting of Jake Charron and cousins Tim and Koady Chaisson—The East Pointers are Celtic at heart, but don't subscribe to one particular sound or style, incorporating elements of jazz and pop into their songs.
Lydia Persault, a Toronto-based folk singer, opened the show.
During The East Pointer's 16-song-set, they alternated between guitars, banjo, fiddle and keyboard, keeping time with tambourines and egg shakers or by stomping their feet.
While the band has toured worldwide, it's clear that their hearts lie in their home province. Before the show even started, Islanders talked about how much The East Pointers mean to their community—and how many of their songs are inspired by local places and events. This gave the entire concert a tight-knit, intimate feel, even though the venue was full. Everybody was clapping, toe-tapping and dancing.
Despite Halifax being the second-to-last stop on their Canada-wide tour, The East Pointers delivered a fun, energetic concert. The most engaging part was when, at several points, the band members would face each other. They would smile as they played faster and faster. It was like watching a jam sesh between close friends, a reaffirming moment of what folk music means to the culture of Atlantic Canada.