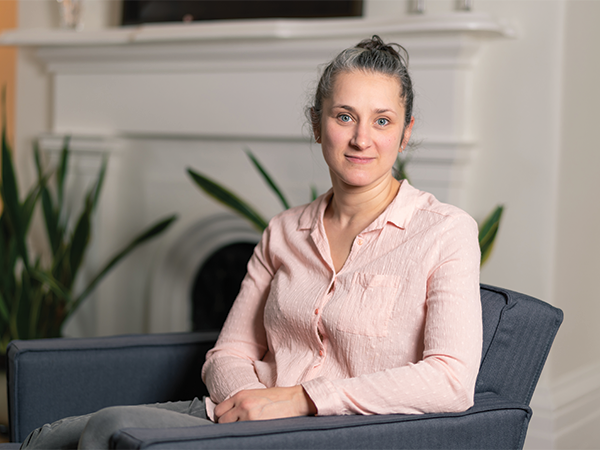 Old Stock: A Refugee Love Story
to Nov 23, 7:30pm with matinees Sat-Sun at 2pm
Neptune Theatre, 1593 Argyle Street
$30-$60
---
If you suggest that Hannah Moscovitch is a genius within her earshot, she reacts like a cardiologist being told they're a hero might: a short laugh, a humble gaze cast downward and a tidy, gracious change of conversation.
But then, if you observe closely, you might notice another glimpse (and a world inside of it) pass through the playwright's eyes: something like the great Spring thaw of Yosemite, rivers cutting new pathways every year, announcing the birth of a season.
Moscovitch is probably the biggest celebrity you've never heard of in Halifax.
Last year, the internationally celebrated play Old Stock: A Refugee Love Story (which she co-wrote with her husband Christian Barry and features a score co-written by Ben Caplan) collected six Drama Desk nominations in New York City—there is no evidence any other maritime-based company has ever earned such praise. Moscovitch shared the 'Book of a Musical' category with Tina Fey.
After receiving critical acclaim worldwide, from Edinburgh to Australia to the Netherlands, Old Stock has returned to its birthplace, extended after a sellout run on Neptune's Scotiabank stage (you can catch it until Nov 23).
Moscovitch has won some awards bearing names so lofty they sound made up, like the "Donald Windham-Sandy M. Campbell Literature Prize." She was not only the first Canadian woman to win the American honour, but she was also the first Canadian playwright, hand-picked by Yale University.
Saying Moscovitch doesn't give a shit about any of this isn't entirely inaccurate. But she's too busy to slow down and revel in the parade of awards bestowed upon her.
"Tell us about yourself," a hiring panel in Los Angeles recently asked Moscovitch. (She was being courted for a job so prized the details cannot be discussed.)
"What... kind...of a question is that?!" she recalls, laughing in mock outrage, the space between words punctuating her speech like a well-timed joke in one of her plays.
Although there are moments of grace and comedic escape in her words, Moscovitch's stories lead audiences where they ought not want to go—into the treacherous darkness of unexamined pain. They span all forms of suffering, from the intimate untold nuances—historically made invisible—of female sexuality, as in What a Young Wife Ought to Know (nominated for a 2019 Governor General's award) to the eviscerating waste of war—see East of Berlin, This is War and The Russian Play.
Before Moscovitch became a playwright, she studied acting at Montreal's National Theatre School. She watched, drawn in by the words, their shape, the layers of narrative, the circulatory system beneath flesh. Absorbed, she'd miss her cues. Everyone would be waiting for her to walk into frame; she'd be offstage.
"I was thinking about things, I was having my own thoughts...I was daydreaming," she explains. She was already at work: gathering details, sorting and searching and dancing with the deftness of a pilot. Her classmates and professors didn't know it—and maybe she didn't either—but Hannah Moscovitch was always preparing for her grand entrance.