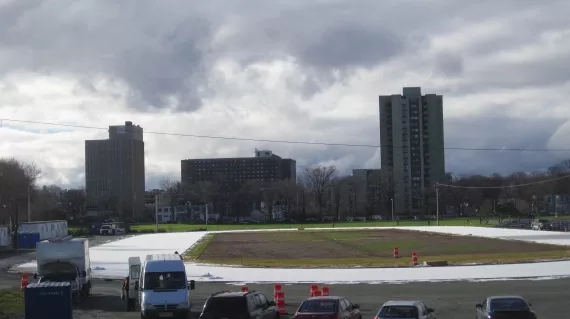 Keeping the Common skating oval in place for another year will cost "at least $750,000 to $1 million" in capital costs.
The capital cost figure was revealed in a city staff report to council. "The figure came from Terry Gallager, manager of Facility Development," explained finance director Cathie O'Toole.  "It was an estimate of $750,000 capital, and was to place the refrigeration pipes in concrete rather than sand, do some landscaping/building improvements. My understanding is this would make it suitable to withstand a longer time frame of utilization, and take into account some alternate use during of off season maybe."
Operating costs haven't been spelled out in a staff report. By piggybacking on the Canada Games, staff had initially thought this year's operating costs to the city would be about $110,000, but the unexpected popularity of The Oval has pushed those costs up as the city has expanded hours and added programming like concerts. A total operating figure for this year hasn't yet been calculated, but councillors are privately expecting next year's operating costs to run in the $500,000 to $750,000 range.
If so, keeping the oval another season will cost $1.25- $1.75 million. That is considered a temporary run, meant to give staff time to prepare a long-term plan for The Oval.