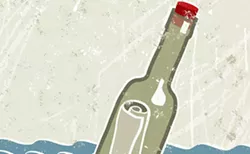 M
ajor kudos and a big shout-out to the guys who handle lost and found at the Halifax Transit Bridge Terminal. Last Wednesday, I lost my wallet on one bus going to the Bridge Terminal from Dartmouth, and my cell phone on the bus going across the bridge to Halifax. I got the number for lost and found at Halifax Transit, so I called them and I spoke with Dale; we had a great rapport and the customer service experience was great! The bus drivers had all told me that lost and found opened at 8am. bit Dale explained that they didn't get the things back from buses until noon, so it was not a good idea to call before that. Makes sense to me.
I left a voicemail message with Dale yesterday, and today when we talked he asked me about my phone and asked me to describe it to him. I told him the brand name only appeared near the speaker. He asked if I could wait a while, as he had to have a look in his inventory again.
Lo and behold, my wallet, with all the money I had, $25, and a lottery ticket AND my phone were at the lost and found! Freaking A+++ for customer service, guys, and for getting these things back to me. It took a week for my cell and wallet to be located and brought back: who cares how long it took! I got them back!
So people, when you lose your stuff and it might be on the bus, don't panic. These guys are super-busy! I just explained the process. Let them do their job and locate the stuff and stop calling every day to find out if your things are there. It must be super-stressful working there. So I didn't have my cell phone for a week; the world didn't end and I didn't die because I couldn't access the internet. It was actually nice to be flying blind and almost incommunicado for six or seven days. Lol! Thanks to everyone who had anything to do with it at Halifax Transit!!! Aaron and Dale, you guys rock!
—An Anonymously Happy Guy