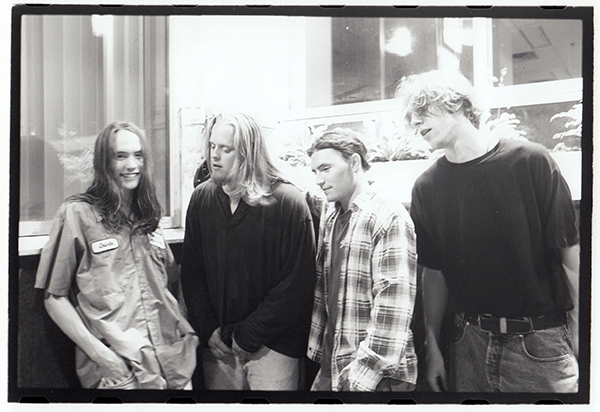 Burnt Black w/Moon Logic
Saturday, July 27, 8pm
The Marquee Ballroom, 2037 Gottingen Street
$15, tickethalifax.com
---
Burnt Black might not be the first band that comes to mind when people think of Halifax music in the 1990s, but it is one of the most influential artists to emerge from the region. The Yarmouth quartet is reuniting for the first time in 20 years at the Marquee on July 27—the show was initially scheduled for the Seahorse, but demand necessitated the move upstairs. Frontperson Brian Borcherdt is using the time on home soil—he's currently living in New York—to reflect on the band and its place in the east coast music scene.
"I have warm feelings about the experience and what we did, what we were able to accomplish considering the odds we were up against," says Borcherdt from his parents' home in Yarmouth. "We had to do it all ourselves, and we faced a lot of animosity from people who didn't want us to be part of the world there, so I've always been proud of it."
Emerging at a time when Sloan was king, Burnt Black—Borcherdt and his brother Adam on guitars, bassist Marcus Webster and drummer Neil MacKenzie—didn't sound like anything coming from Halifax. Louder and brasher than the lo-fi indie-pop dominating stages, Burnt Black initially struggled to gain a foothold. "We had this idea that we would break into Halifax, but when we tried we didn't fit in," says Borcherdt. "We didn't quite have the sophistication or the sound that was happening at the time."
Instead of giving up, the band took a DIY approach, booking its own events throughout Nova Scotia. "We'd rent PA, hire security and go into event spaces that didn't have concerts before," says Borcherdt. "We booked legions and curling clubs, and put all-ages shows on in places like New Glasgow, Trenton, Stellarton and Windsor. It was successful because kids here had nothing to do, and we were giving them an outlet."
These efforts eventually paid dividends, as teens from those regions moved to Halifax for their post-secondary educations. Within a few short years, Burnt Black was one of the top draws in the city. "It wasn't a clever, executed plan," says Borcherdt, laughing. "All of a sudden, right as the Marquee was opening, the university kids were from those high schools and towns where we used to go and play. It was genuine—we wanted to bring our music to these towns that were remote and off the map like Yarmouth, and it inadvertently led to us taking over Halifax."
Unfortunately, Burnt Black's time as Halifax's buzz band was short. The band dissolved shortly after releasing its final album Burned Out in 1998, playing a reunion show in 1999 before officially calling it quits. However, Borcherdt's label, Dependent Music, would help usher in a whole new generation of musicians to the Halifax music scene, including several prominent bands (Wintersleep, Contrived, Kary) that proudly wore their Burnt Black influence on their sleeves.
"Once that time came and went and was over, my takeaway was that I wanted it to help inspire other people, and when I became friends with people who were inspired by that music, I wanted to help them," says Borcherdt. "I was glad that there was a life after that—it didn't sound the same, but maybe there were some influences, even if just aesthetically, being carried."
Borcherdt's post-Burnt Black music career has taken him all over the world. He released several successful solo efforts between 2002 and 2008 before turning his efforts toward electronica group Holy Fuck, and more recently the indie band Dusted. Borcherdt says the upcoming reunion show has given him a whole new appreciation for the music he released over 20 years ago.
"I felt that we didn't make proper records," he says. "I'm the singer, and the most naked, and sometimes it's hard to listen to my vocals when I didn't get to nail them the way I heard them in my head.
"However, this experience—especially trying to sing them again—made me realize it was really hard. Whether it was perfect singing or not, I was pouring my whole heart into it. Maybe I am emotionally removed from it now, but it's helped me make peace with a lot of it, realizing how spirited everything was, in spite of it being rough around the edges."