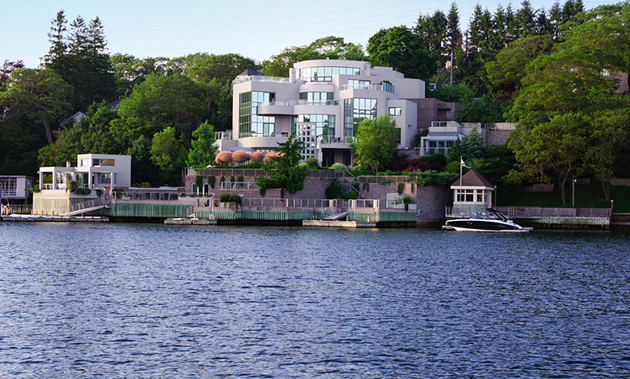 During the summer, 24-year-old David Backman starts each day with a jump in the Northwest Arm, just like the late Jim Gowen, a noteworthy Halifax journalist known for swimming in the Northwest Arm 365 days of the year.


And this spring, the 'Jimmy Gowen', Backman's 22-foot pontoon boat will ferry residents and commuters across the water between the docks in Sir Sandford Fleming Park and the bottom of Jubilee Road.
Backman hopes to launch the service in early May, but is awaiting approval for temporary use the docks at St. Mary's Boat club while the city puts in newer dock at the bottom of Jubilee Road. The docks are returned to the water every year, and open to the public.


Backman says the service could help alleviate some of the congestion caused by the Quinpool Road bridge closure but also geeks out about it being a "resurrection of a traditional ferry route." He says the tradition of ferries on the Arm has been around since the 1880s.


In January, Councillor Shawn Cleary pitched a similar ferry idea to council that didn't get approved. But he's says he's glad to see a private business taking over the project and enabling people to take more sustainable modes of transport.


Backman encourages regular commuters to purchase a weekly or monthly pass to reserve a spot during "peak hours," says Backman, as the ferry can only transport about 10 people and four bikes at a time. For $4 you can take the six minute trip across the Arm on the Jimmy Gowen, which will leave every 15 to 20 minutes between 6am and 10am and 3:30pm and 6pm. Backman says the cost will be just enough to cover operational costs, as his main goal is to increase awareness about his summer water taxi service: North West Arm Boat Tours, which takes tourists and locals to McNabs Island and around the peninsula.


Backman has taken over $2,500 worth of courses and certifications while setting up his water taxi business, and all his drivers are certified with marine medical, marine first aid and commercial marine radio certifications.


Backman went to school for marine training and has spent time on ships but doesn't consider himself much of a "roughneck person." He preferred working for himself and hopes his ferry can bring some life back to the Northwest Arm.


He'll be putting the boats in the water this weekend, and they'll sleep at their private moorings in the Arm until the end of the summer season. If he gets approval to use the St. Mary's Boat Club—which turns 100 this year, Backman adds—docks North West Arm Ferry will be up and running in early May. Otherwise, they'll be waiting until the new dock at Jubilee is completed by the city.