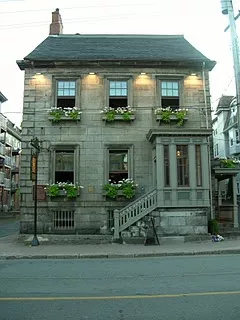 The historic
Henry House Restaurant and Pub
(1222 Barrington Street, 423-5660) has extended to the second floor of the ironstone and granite former residence of Confederation father
William Alexander Henry,
though they refer to it as the third floor, since the establishment already fills both a lower and upper level. It opened weeks ago after a year of renovation, with Victorian pub features shipped in from the UK. A brand new menu will arrive this week, reflecting the selection of "per-prohibition era cocktails," says bartender and manager
Jessica Alsop
. "We've been working with a lot of bitters." They serve appetizers as well, some of the favourites from the lower floors but some new surprises as well. The third floor is currently open Thursday, Friday and Saturday from 5pm until last call, which is usually around midnight, while the other levels are open Monday-Saturday 11:30am-12:30am and Sunday 12pm-11pm.