Transport diversity? Just cram more into our streets! Add a transit priority route, cycle lanes, more space for pedestrians. But we'll need to keep everyone happy by maintaining plenty of room for traffic—including those precious dedicated turning lanes—and oodles of on-street parking fit for a fleet of Yukon XLs. All of this and more for our "complete street" remake recipe a la Cogswell.
How about space where you can hang out and enjoy just being on a really great street? Could trying to do less with our streets achieve transport diversity, and gain more customization for shops and services?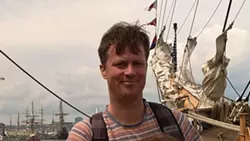 I caught up with Frank Palermo,
planning professor at Dalhousie
, who expressed his concerns at the
Spring Garden Road public meeting
that such proposals "miss the point" of what a main street is really about.
"A real main street has a social function—it is a marketplace for people to enjoy, shop and linger. But transportation needs, including using Spring Garden road as a bus transit corridor, dictate the proposed plan options for Spring Garden Road. Making the street exciting, entertaining and a great destination is totally neglected."
Palermo says we need to revisit the conceptual elements of the design process: How can Spring Garden Road become more of a place where people enjoy shopping and just being there? Could we, for example, make green space, garden beds and planters as the defining central feature to promote relaxation and enjoyment?
"It might be fine to maintain one or two tight lanes for traffic, but the bump outs, loading space, bus priority lanes and forced turns create a traffic dominated feel to the street and severely compromise its main street function," he says.
Patty Cuttell Busby, executive director of the North End Business Association, expresses similar criticisms.
"The changes to Gottingen were marketed to us as a 'complete street' transformation but that didn't happen," she says. "Instead, it was just to pave the way for Gottingen to become a transit priority corridor."
The result, says Cuttell Busby, is a street worse-off as a destination. The central traffic lane created by the bus lane enables traffic to move at consistently higher speeds. Because the curb bump-outs don't encroach into Gottingen, there's nothing to slow traffic or make it easier to cross for pedestrians, and buses moving at speed right by the sidewalk is disconcerting.
My experience
seeing ambitious main street plans unfold and succeed
in Britain is that the more the design focuses on the actual experience of hanging out on the street, the more the space becomes busier and better for all. Businesses can open up along the middle of streets. Urban cores are transformed into an incredible open space for relaxation, enjoyment, peace and ultimately (attention: decision-makers) a load of people spending money and loving living right, slap bang in the middle of the city.
Couldn't work here? It's colder, but a lot less wet, grey and miserable than Britain where we mainly shop on streets, not malls. Yes, in Halifax we're accustomed to driving everywhere and parking right by our destination.
But, as former Toronto chief planner Jennifer Keesmaat put it when she visited Halifax last year to discuss our Centre Plan, "This city was founded in 1749—with small, walkable urban blocks. Walking has been the main form of transportation here much longer than driving has."
Maybe we can build on this and make the focus of our complete streets a place where we can, just feel complete. In return, we'll make a ton of money for people.
———

Opinionated is a rotating column by Halifax writers featured regularly in The Coast. The views published are those of the author.