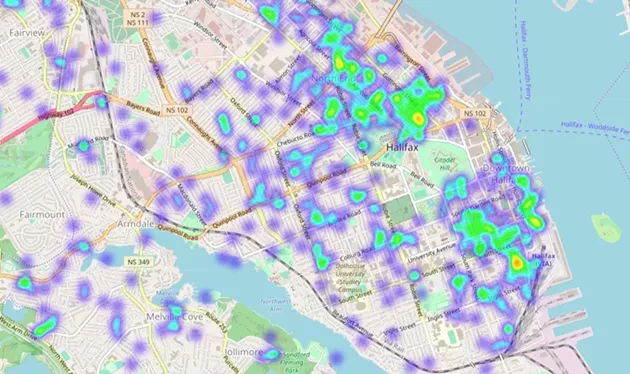 Airbnb likes to position its hosts as everyday people offering up their homes for a little cash when they take a vacation or leave on a work trip. But new data assembled for The Coast shows the exact opposite.
Over half of the Airbnb listings in the urban core seemingly belong to property owners with multiple listings. The exact figures, however, are difficult to pin down.
The accommodation-sharing website has a reputation of suppressing or skewing data to make it look like realtors and landlords don't use it.
"They are quite selective in how they present things," says Tom Slee, critic and author of
What's Yours is Mine: Against the Sharing Economy
.
Slee has a PhD in theoretical chemistry but ended up working in the software industry for years before starting his investigation into Airbnb three years ago. His interest led to the
discovery in 2015
that the company quietly purged thousands of listings in New York just before publishing an official review of its operations in that city.
Slee says that around the world there are two major complaints about Airbnb: Multiple properties listed by single hosts, and year-round listings. But determining what percentage of a city's listings belong to either category is tricky. As a private company, Airbnb has the freedom to pick and choose which stats to share with the public.
When Airbnb talks about the number of people with multiple listings
for
example, says Slee, "they always say it as a percentage of the hosts." That's not really the interesting number, though.
"The interesting number is what percentage of listings belong to people with multiple listings."
According to a
survey Slee ran on Airbnb in Halifax over the past two weeks
, the percentage of hosts who offer multiple listings in the city is fairly small—just under 26
percent
.
But the percentage of listings offered by those 26
percent
of hosts accounts for 56
percent
of the Airbnb spaces available in Halifax.
Hosts who offer multiple listings are especially likely to be realty companies and landlords, Slee explains. Meaning the majority of income from Airbnb visits to Halifax is going to multi-unit listers.
Lindsey Scully,
spokesperson
for Airbnb Canada, writes in an emailed statement that people host for a variety of reasons. Still, "the majority of our hosts in Halifax are sharing their homes on an occasional basis," she says. The average occupancy for 2017 was 72 nights, she says, and the "typical" income for a host was $590 per month.
"The assumption is sometimes made that hosting an entire home is an equivalency for a home being shared full-time or year-round," Scully adds, "which is not the case."
While Airbnb shared some stats with The Coast, Scully says the company is unable to provide how many hosts have multiple listings, or where the hot spots are in Halifax–data Slee was able to get from Airbnb's website over the weekend.
Included in his research is a heat map showing which areas see the most visits
in
the city. The south and north ends of Halifax are hottest, validating growing concerns in those neighbourhoods about a lack of rental housing.
Anecdotal reports from residents about how Airbnb is changing the residential market in Halifax have included everything from south end apartment buildings repurposed as full-time Airbnb hotels to landlords in the north end telling tenants with expired leases they won't be able to renew because the units are going Airbnb.
Slee's data collection only shows a slice in time, of course, based off of available listings and estimating visits from the number of reviews. (The latest research on the subject suggests 55
percent
of Airbnb visitors leave a review.) There are many blind spots in such a limited window, he points out, including knowing how many listings are rented out occasionally versus how many are listed year-round.
Airbnb's website is largely dominated by "entire home" listings but lacks specific information such as addresses, last names and phone numbers, making it nearly impossible to tell which hosts are full-time operations. Some may even rent out listings under different names and accounts.
That data would definitively show how often realtors or landlords use the site, and whether Airbnb was affecting the availability of rental apartments. As of right now though, it's unavailable.
For property owners, there are plenty of incentives to switch from leasing to
Airbnbs
. Compared to what they would have gone for as rental units, landlords of an Airbnb unit can renovate, redecorate and earn back more than a year's worth of rent in just a few months, even if the spot sits vacant for the rest of the year.
Meaning that while the accommodation-sharing website
might be good for tourism
, it may also prove bad for rental housing.
To Slee, that seems contradictory to the founding purpose of the site: "Airbnb likes to say, 'Come and live like a local.' But if they're driving out locals while they're doing that, that is a problem."
Know any landlords converting properties to Airbnbs? Contact [email protected]