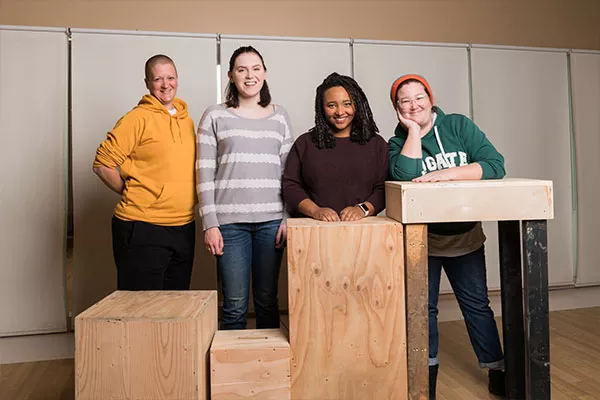 What to Expect When You Aren't Expected
Sat Nov 10 (8pm), Sun Nov 11 (2pm & 8pm)
Museum of Natural History
1747 Summer Street
$10/$20
"These stories are just so powerful, we just couldn't let them sit anymore," says Megan Aston. The stories she's speaking about are those of LGBQ+ women who have given birth in Nova Scotia—stories of feeling invisible, of systemic heterosexism and the presumption of heterosexuality, of having to explain your embodied experience to your health-care provider.
Aston and Lisa Goldberg—professors at Dalhousie University's School of Nursing—spent the past five years researching these experiences, speaking with women outside of the heterosexual norm who've given birth in Nova Scotia, and trying to understand the political and pedagogical structures that have led to these women's feelings of alienation.
Now, with funding from the Nova Scotia Health Research Foundation, Goldberg and Aston have collaborated with playwright Annie Valentina to bring their research to the stage in What to Expect When You Aren't Expected, on this weekend at the Museum of Natural History.
"One of the real challenges in nursing...is that nursing is historically grounded in the military and the church, two of the most conservative disciplines," says Goldberg, describing the context for her research and the play. "LGBTQ2S+ identities are amongst the largest underrepresented subgroups in the profession, yet we still remain largely invisible."
She explains that the consequences of this invisibility are profound for both a patient's physical and emotional well-being. And despite each participant's individual perspective, a feeling of invisibility runs through them all—suggesting a systemic issue, she says, not simply a personal one.
Having felt their research's emotional weight, Goldberg and Aston say they had a responsibility both political and ethical. "As educators, as researchers, we have to be really careful about how [these stories] are presented," says Aston. "How do we really bring those voices and those stories to light...What do we do with that as researchers?"
Aston explains that they didn't begin the research with the intent of creating a play—or doing any other creative work, for that matter. But somewhere along the way, she had "a lightbulb moment" and recognized the potential for a creative work to have an empathic impact on the public in a way traditional methods of presenting research may not.
So, with the ongoing consent of the participants whose stories have been included, Aston and Goldberg worked with Valentina to bring these birthing narratives to an audience beyond academia's ivory tower. What to Expect includes only some of the many stories shared with Goldberg and Aston, and their initial research was itself limited, not including the experiences of trans men who give birth. Still, they hope that together they can illuminate a path to improved, more inclusive health-care experiences in Nova Scotia.
The play "is politicized because our work is very politicized, but it's done in a beautiful, creative way," says Goldberg. "Sometimes people think these are isolated stories—but these stories are not isolated, they're not apolitical, they're not asocial, they're not ahistorical. And that piece shows that they have real potential to offer us new directions of what we need to do, moving forward."
That forward-looking energy grounds both the play and the researchers' interest in continuing their empathic, arts-based research model—into research they hope will be inclusive of a broader range of experiences.
"Policy-makers, government, funding bodies—on the one hand, they love numbers," says Goldberg. "Yet to have any impact and effect on anyone—numbers don't affect us. When you are affected emotionally by something, that's an opportunity to really have you stop and reflect and think."