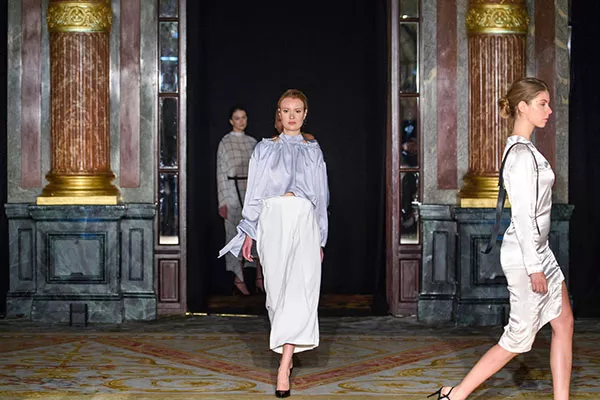 AFW's Opening Showcase
Thursday, October 18
350 Horseshoe Lake Drive
7pm, $25, tickethalifax.com
Spending a little too much time sewing, and a little less time hitting the books worked out for former Dalhousie English student Kristen Reid. Her line Lore Collective—which was born from her time preparing for Dal's Vaudeville Fashion Design Show—walked the runway earlier this month at Paris Fashion Week. Now it'll be closing the first show of 2018's Atlantic Fashion Week.
The name Lore is derived from Reid's love of folklore, her designs are inspired by historic paintings and art. The garments feature a lot of solids, plaids and unconventional uses of fabric.
"You know the Grecian robes that you see on the marble statues? I like to take that and modernize it," she says.
Lore's manufacturing is based out of New York,
however
Reid calls Halifax home and likes to showcase local talent. The Paris show featured patterns that were designed by Dalhousie graduates and music was produced by Halifax DJ Brandon Mott.
"I want to stay here and bring a lot of awareness to the Maritimes. You don't have to live in a big city and work out of them," says Reid.
She and Lore's head of production and accessory designer, Wyatt McDougall, look forward to their clothes being sold online in March 2019. Meanwhile, Lore is gaining the attention of international fashion aficionados.
"We're going to have our lookbook sent to some stylists that look pretty cool, but I don't want to say anything yet," says Reid. "I don't want to jinx it."
Pieces for sale on Lore's website will include two things not seen on the runway: t-shirts and leather belts.
"We are both working on t-shirts," says McDougall. "Because we are technically a luxury brand, we want to be able to make something that any consumer can have, and experience some of what our company is."