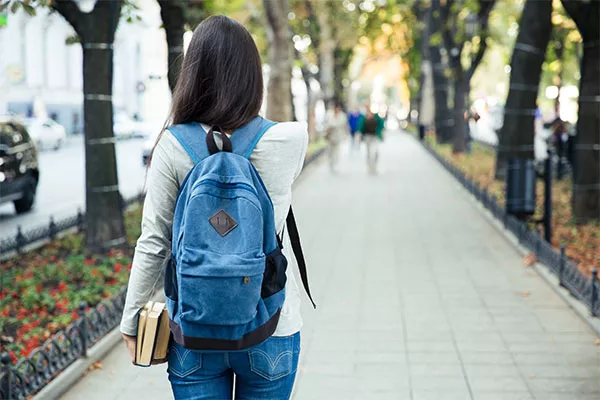 Sofia Lowenstein had been in a French Immersion program since the sixth grade, but still she had a suspicion that she wasn't good at French. That is, until she got into the Explore program at Université Sainte-Anne. Lowenstein realized that class sizes had been impeding her learning. Many of her previous teachers had large classrooms, and multiple classes a day, preventing one-on-one learning time.
"This meant they didn't have the time to sit down with me and answer my questions, which actually caused me to stop asking them for many years. By the time I had gotten into the university's French Immersion program, I had gotten out of that habit," says Lowenstein.
But a fresh educational start is a great way to find new habits. At Sainte-Anne, Lowenstein quickly learned that she wasn't bad at French, she just had a very different way of learning. Her teacher in the Explore program, Qian Qian, showed Lowenstein that her learning needs had to be nurtured and cared for just the same.
"French is a complex language that changes from one country to the next. So far, I've realized my 'bad habits' regarding my French are: wrong verb usage, many tense misuse problems, as well as many grammar and syntax rules I need to learn. Hopefully by the end of my studies, I will be able to proudly call myself a French speaker," she says.
Lowenstein is currently enrolled in both Immersion studies and Agent de Bureau Gouvernemental programs. Her classes include: one French writing course that focuses on grammar, word choice and vocabulary; an oral French course on pronunciation and colloquialisms; and French geopolitics that teaches students about different regions and specific French dialects.
Lowenstein worked hard in her programs, as the students are fully immersed in the French language. English speaking, or even listening, is not allowed.
"Languages are things you have to practice constantly to be able to achieve any significant progress. I know it's hard, and you won't want to speak something you don't feel comfortable with all the time, but I hope that everyone who joins this program is ready to work hard and immerse themselves in the language no matter the hardships. Practice it!"
Lowenstein doesn't compare herself to native French speakers, as they've had practice all their life. Instead of comparing, she sees the rich community surrounding her at Sainte-Anne, and makes use of the resources offerened through her program. She asks for grammar help to fix her mistakes, and she listens to the language around her. She hopes to complete this program and pursue her studies in the college-level program Administration des Affairs in the Business Administration department at Université Sainte-Anne's Halifax campus.
"Knowing French is a very sought-after skill here in Canada. Many employers will look at it as a qualification and know that communication is important no matter what job you're looking for. Once I reach proper fluency, I will have three languages to use in the work environment to help me in my communicative needs."