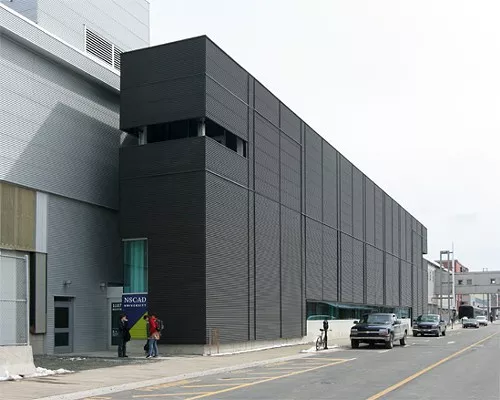 NSCAD's waterfront campus
Last night, as I groggily analyzed Bruce Frisko's tie on the ATV 11pm news (note to news writers: referring to "starving artists" is as cliche as saying that TV hosts are shallow), he surprised me with a piece about NSCAD University and their current financial situation. The school isn't saying anything, but provincial (operating costs) and municipal (heritage capital costs) governments confirmed that the school is looking for a major financial injection. Dartmouth councillor Gloria McCluskey suggested that perhaps NSCAD shouldn't have opened their waterfront campus, which was a major expansion and cost for the school in 2007, but that's not really helpful in hindsight.
Actually, it wasn't a surprise to hear about this, as rumours are swirling in the community about where cuts could come next. The dismantling of the Dawson Printshop this time last year, was a sad sign of things to come. Coast's Vincenzo Ravina wrote last year:
Linda Hutchison, director of university relations, alumni & development, confirms that the Dawson was closed as a cost-cutting measure. When asked if NSCAD would hire a technician, she says she doesn't know. "We're not sure when we can reopen the Dawson. We certainly hope to, when the economic climate improves. It's a wonderful opportunity to show and display the letterpress work that's created in the Dawson. I personally love it."

When asked about NSCAD's current debt and whether it's related to the building of the school's waterfront Port Campus, which opened two years ago, Hutchison says, "That's not a question I'm prepared to answer.
We don't have specifics right now, but we'll keep on the story.