Laura Jean Fraser carefully places a crown of handmade buttercream flowers on top of a vanilla layer cake iced with strawberry buttercream. Using buttercream, and making flowers with it, used to scare her. Watching her now, you would think she has been doing it for years.
Once the icing is done Fraser's flower-adorned cake is moved into refrigeration to preserve the beautiful shape of her decorations and handmade sprinkles. But first she measures it to begin building the cake box with cardboard that works with the colour scheme. The boxes she crafts are designed to open without disturbing the cake—they unfold to lay flat on the table, revealing the beautiful dessert in a way as controlled and thoughtful as it was made and decorated.
There are many bakers in Halifax, but Fraser sets herself apart with presentation and delivery that is arresting. Take her macarons: Although they will be consumed in seconds she decorates them with miniature paintings—from detailed cannabis leaves to portraits of pets to vaginas—that are often just an inch wide and very time consuming to create. (Follow her Instagram @laurafrazzled to see what we mean.) Her cakes, cupcakes, doughnuts or Pop Tarts look like more than just baking: They are art pieces to be observed, coveted, then devoured.
"I started a thing a few years ago where I make a thing every day," Fraser says. She makes something, anything—from a small drawing to a cake. That's why it would be a disservice to label Fraser as strictly a baker. She is first and foremost an artist: Drawing, making music and doing design work. She also works for soon-to-open Cafe Good Luck in Dartmouth, as part of its culinary team, but as of recently her baking orders have kept her busy and creative.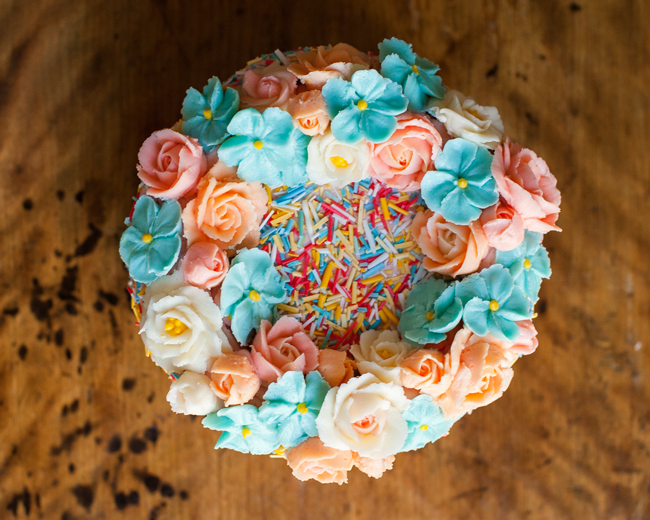 "Baking is such a strange science, I found it fascinating," says Fraser, who has cooked and baked throughout her life on her own time. It's only in the last year that she has taken it to a higher level and started selling her baked goods. And it all started with the macarons.
While making cakes "is like learning how to sculpt," she says "the macarons were like learning how to do watercolour." They are a notoriously tough confection to make, but the added challenge was that Fraser also wanted to paint on them. To create her palate of colours she uses food colouring and vodka, which unlike water evaporates quickly without dissolving the sugar.
"I want to make it taste good first, and then look good," says Fraser, who doesn't buy into fashion over function. "I hate fondant things"—the traditional smooth, paste-like icing made of water and sugar—"that look good, but taste like crap."
She finds it funny when people pick up orders and tell her that they feel her creations are too pretty to eat. But once Fraser has baked and decorated a cake all day, she would rather someone else have it. It's the making that she most enjoys most.
"I like that someone is going to enjoy it more than I would," she says, comparing the process of baking to painting on a Buddha board, where you use a brush and water to make images on a flat stone, but they eventually evaporate. With food the idea that it's eaten makes space for more creation and improvement. "I enjoy the impermanence, it's not final."
To get your own edible art, email Fraser at [email protected].