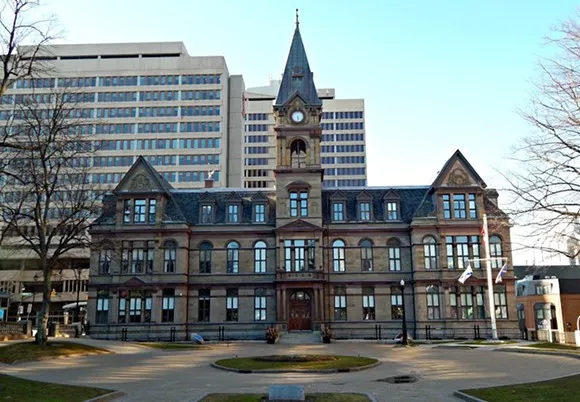 Halifax's chief administrative officer is trying to quell growing public outrage now that the racial discrimination inside city hall's workforce has come to light.
In a public update sent out Monday afternoon, CAO Jacques Dubé says a new confidential hotline will go live next month for employees to report abuses when they aren't comfortable going to supervisors or human resources.
The municipality will also be hiring an external consultant within 75 days who will review HR practices related to racial discrimination and report back to city council.
The changes are coming about now, two weeks after a Human Rights board of inquiry decision found HRM liable for the racial harassment faced by several employees inside Halifax Transit in the early 2000s.
Dubé
publicly apologized on behalf of HRM
after the decision was released online. In today's statement, the CAO maintains the board of inquiry's decision "concerns incidents that took place many years ago" but "serves as an important reminder."
Not so many years ago, claims former city councillor Jackie Barkhouse.
Barkhouse released her own statement prior to Dubé's release on Monday, alleging incidents of bullying and discrimination in HRM's workforces were known about during her time at city hall—from 2007 to 2012—and went unaddressed by senior managers.
Numerous instances of bullying and harassment were brought to HRM's CAOs and deputy CAOs, says Barkhouse, but her concerns were either dismissed or ignored. She informed former mayor Peter Kelly and legal services about abuse and bullying she had either witnessed or heard about, "but they did nothing."
"These problems are spread across city departments, and have been obvious for years to anyone who cared to look," states Barkhouse. "And yet with each new revelation of abuse, city officials always act as if they were surprised."
The former councillor founded Equity Watch earlier this year with ex-firefighter Liane Tessier, who received an official apology late last year after decades of sexual harassment and abuse on the job. The non-profit has repeatedly called for a public inquiry into racism inside HRM since the Human Rights decision was published.
"It's time for mayor Savage, city councillors and senior staff to demonstrate some moral courage and do the right thing by the working men and women of our city," states Barkhouse, speaking about both the Halifax Transit case and
recent protests by African Nova Scotian Operations employees
claiming a lack of action from HRM on workplace diversity.
"All of these apologies and promises to 'do better' are too little and too late. The public cannot put any trust into an in-house investigation by a government that has had its head in the sand for so long."
However, a public inquiry remains off the menu. Dubé
told The Coast last week
that he doesn't think it's needed.
"We're not considering that and that's not something we would believe appropriate under the circumstances," he said.
Instead, the CAO is standing behind the numerous efforts HRM has implemented over the past several years to improve workplace conditions. They include updated diversity training (now mandatory for supervisors), an internal Diversity Leadership Committee, a revised workplace harassment policy and new training on engaging with the African Nova Scotian community.
Recommendations from the 2016 Employee Systems Review
continue to be implemented
as well, says Dubé. Halifax has created a new leadership training course (offered this year solely to African Nova Scotian employees), put diverse representation on job interview panels and is designating the next vacancy for a manager or supervisor in Parks and Road Operations for a candidate who self-identifies as African Nova Scotian.
"I pledge that this important work will continue and that new measures will also be taken to address the serious issues of racism, discrimination and harassment within our organization," says Dubé.
According to
deputy mayor Waye Mason
, a discussion on racial harassment in HRM's workplace will take place in-camera at next week's city council meeting.