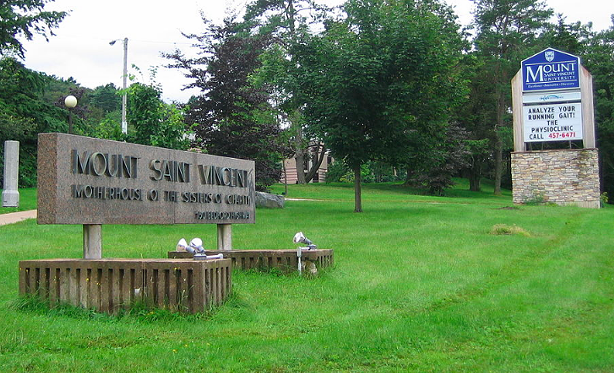 "White teachers taught in residential schools, why shouldn't white profs teach about its history?"
It's a satirical headline
from Walking Eagle News
, written about the recent controversy at Mount Saint Vincent University and the lack of Indigenous voices in academia. But the joke also speaks to the uneasy and ongoing tradition of white Canadians taking it upon themselves to tell the story of Indigenous history.
While at one time residential schools tried to eradicate that culture wholesale, today universities across the country are taking steps to decolonize their curricula and focus academic study on the Indigenous experience. And yet, the faces teaching that history still
remain
immensely white.
According to figures provided to Dalhousie University
by
Statistics Canada, the labour market availability for Indigenous post-secondary professors across Canada is just 1.3 percent. Out of Halifax's four largest universities, only Mount Saint Vincent meets that low target.
Two out of the Mount's 146 full-time faculty members self-identify as Indigenous. (The school says it's in the midst of job hunting for a third.)
Saint Mary's, Dalhousie and the University of King's College all fare worse. Out of 272 instructors at SMU, only two are Indigenous. The much smaller King's employs no Indigenous faculty.
Dalhousie, the city's largest post-secondary institution, employs 12 Indigenous professors—1.14 percent of the university's full-time faculty.
Patricia Doyle-Bedwell isn't surprised by the numbers. A Mi'kmaq professor at Dal, she's experienced firsthand the barriers of institutional and societal discrimination that have stopped many Indigenous scholars from working in academia.
"You're not able to be supervised by faculty members that have any expertise in that community," she says. "I had one professor in Native Studies at Dal that basically said that person knew more about my community than the elders."
Last week, MSVU officials—including Indigenous and settler faculty, senior administration and the school's president on Aboriginal Affairs—met at the request of professor Martha Walls for a "thoughtful discussion." On the agenda were
concerns raised on social media and in the press
about whether a white instructor should be teaching a course on residential schools.
Walls
is
no layperson on the issue. She's studied and written several research papers on Atlantic Canadian First Nations history. The course she created—"Selected Topics in North American History: Residential Schools"—was developed with consultation from the school's Indigenous faculty and will apparently prioritize first-voice narratives while studying the legacy of Canada's cultural genocide.
All of which is to say, she's not easily replaced. It is her course, after all. But there's a certain "lived experience" to the trauma of residential schools that Doyle-Bedwell says can be difficult to learn from a book.
It's a selling point Dalhousie promotes in the university's Indigenous studies minor.
"Learning from Indigenous scholars, you'll benefit from the perspective and insights of instructors who have both lived and studied the topics under discussion," reads the brochure.
Having an Indigenous instructor during her own academic studies was a rare and invaluable influence for Doyle-Bedwell. They acted as a mentor figure, teaching her how to thrive in a discriminatory environment.
"I don't think I would have survived if I didn't have that," she says. "You see somebody who's like you who has succeeded. They're role models and they also know how to navigate that cultural divide."
The Mount is standing behind Walls, who the school says has the full support of MSVU's "Indigenous and non-Indigenous faculty and administration."
"Truth and Reconciliation is a partnership," writes MSVU via press release. "The work of reconciliation requires us to have complex and sometimes challenging discussions."
But the debate continues. The story has
made international headlines
, with voices of both opposition and support from Indigenous educators. No one seems to doubt Walls' credentials. What's really at play is what the discussion represents—the larger context and troubled history of white voices telling Indigenous stories.
"I guess, my fear all the time is as we're moving towards Indigenizing the academy...that we'll be excluded again," says Doyle-Bedwell. "But at the same time, trying to decolonize the academy can't just rest on the shoulders of the few Indigenous
faculty
on campus. It's too big."
In
an opinion piece published
by the
Washington Post
this past weekend, NSCC student advisor and former Halifax poet laureate Rebecca Thomas says she believes the MSVU course should be taught by an Indigenous instructor. But Thomas recognizes that Indigenous people cannot be solely responsible for the exhausting, incremental work of decolonization.
"If we lived in a world where all things were equal, then yes, white professors could teach indigenous courses," she writes. "However, we do not live in an equal world...We live in a world where I have to reopen my scars over and over
so
individuals and organizations can feel good about giving me bandages."
The Nova Scotia Community College, it's worth noting, has 32 Indigenous faculty members out of its 909 full-time and casual employees throughout the province. The college also likely has a wider labour market from which it can employ First Nations staff than the limited numbers of Indigenous university profs.
Labour market availability is compiled by Statistics Canada and sent to employers involved with the Federal Contractors Program whenever new census data becomes available. The current 1.3 percent ratio dates back to 2011. Dal says it's expecting new numbers soon from the 2016 census.
But even if the numbers increase substantially, a lot of work will still be needed to undo the legacy of Canada's residential schools, and the institutional barriers that stopped many young minds from pursuing their educations.
"We come from a long line of really intelligent people who were treated like they were nothing," Doyle-Bedwell says. "The knowledge that we punished out of people in residential schools...we have to regain that."
Some universities seem to be recognizing that fact. Responding to the Truth and Reconciliation Commission, several academic institutions have begun to "indigenize" their programs over the past few years. Those efforts include support not just for students but also attempts to increase faculty diversity.
The University of Alberta recently
added 25 Indigenous faculty
and mid-level administrators to its labour force and approved a new PhD program to help produce the next generation of Indigenous scholars.
Locally, both Dalhousie and Mount Saint Vincent have been trying to "decolonize" their hiring process, and just last week
handed out
honourary degrees
to Indigenous scholars Cindy Blackstock and Jane Abram.
"The institution is starting to recognize the value of our elders and what they're bringing," says Doyle-Bedwell. "That it is just as valid a knowledge, and trying to create a space where that is respected."
The professor was a single mom during her undergrad, negotiating what she calls the cultural divide between her studies, her family and her community. When she started teaching in 1995, she was one of only five Indigenous law professors across the entire country. But times change.
Doyle-Bedwell says her heart warmed this spring, seeing so many photos of young Indigenous graduates showing up on her Facebook timeline. It was a sign that the structural and racial barriers that have for so long prevented Indigenous voices in academia appear to be, if not defeated, then waning.
"We're not talking about something that's going to happen in a year or two years," she says. "It's going to take time."