One of the potential suppliers for NSLC's new cannabis stores says the closed-off retail design being constructed does little to reduce taboos around the soon-to-be-legalized drug.
Mock-ups for the retail cannabis stores were included in a PowerPoint presentation shown to potential suppliers in March, a copy of which was provided to The Coast. The designs show a streamlined space with visual displays for cannabis flowers and accessories, along with multiple tablets for customers to find out more information from NSLC's website.
Nova Scotia Liquor Corporation spokesperson Beverley Ware says those designs are outdated and the new, finalized concepts will be released to the public next week.
One aspect that likely won't change, however, is that the cannabis section will have to be isolated from alcohol products by a partial wall. Provincial legislation prevents any youth under 19 from entering or even viewing products in the proposed cannabis sections.
Customers shopping for booze will be able to look into the space, but not view any products. But one business owner likens the first-draft layout he's seen to the XXX-rated adult section of an old video store.
"Right off the bat, that's a physical barrier they're putting there," says the potential supplier, whose name The Coast has agreed not to use because it could impact his submission to the province. "They're hiding it like it's still illegal."
A glass divider similar to the "Cold Zone" for beer, he says, would be more transparent—no pun intended.
"It's better to open it up and force it in front of people because that's the only way that we're going to talk about it as a society and, at the same time, change the taboos around it."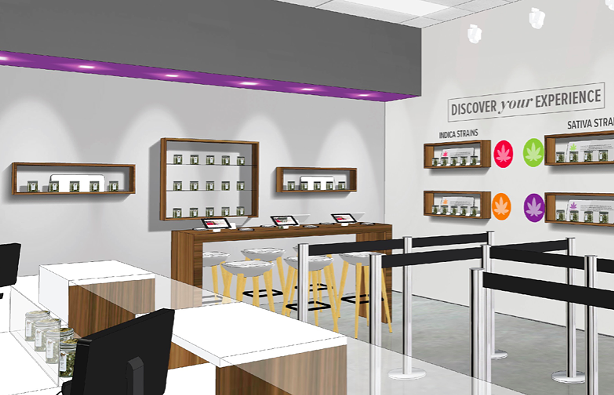 The province announced this week that an additional three NSLC locations will start selling cannabis once federal regulations are finally enacted this summer, bringing the total number of legalized cannabis stores in Nova Scotia to 12.
All but one of those locations will be joint alcohol and cannabis dealers. The Clyde Street retail location will only sell cannabis and, consequently, will be the only place customers get to actually smell the product before buying.
In other stores, customers will have to make do with the training of staff and NSLC's branded signage.
Initial designs in the presentation to producers divides available cannabis products into suggested categories such as "Relax," "Unwind," "Centre" and "Enhance."
At one end of the spectrum, Relax would feature "physically calming" Indica strains such as Northern Lights and Bubbakush. At the other end, Enhance would have "uplifting" Sativas like Sour Diesel and Amnesia Haze. Storage boxes containing the actual cannabis products are, in the mock-ups, kept behind cashiers like cigarettes. The bins in the designs feature labels displaying THC and CBD percentages as well as flavour notes.
Ware stresses—again—that those slogans, along with other details such as proposed prices and packaging are either changing or still up for review and dependent on federal regulations.
Construction and infrastructure for the facilities is still on schedule but launch dates are remaining flexible given the moving target for federal legalization now potentially won't happen until September.
The province expects a secure supply of cannabis to meet its monthly demand of 1,200 to 1,500 kilograms will be confirmed soon, as interest in supplying NSLC has exceeded the required volume of cannabis products.
At the time of the March 21 vendor presentation, 35 licensed producers representing 130 brands and 940 products had expressed interest in selling to the province.
The vendor PowerPoint suggests loose cannabis flowers will be sold in a range of packages—from one gram up to 30 grams—while pre-rolled joints could be available in both singles and five-packs. Those sizes are still up for debate, as are price points, but the initial presentation suggests a 3.5-gram bag could range from $28 for bottom shelf to over $42 for a premium high.