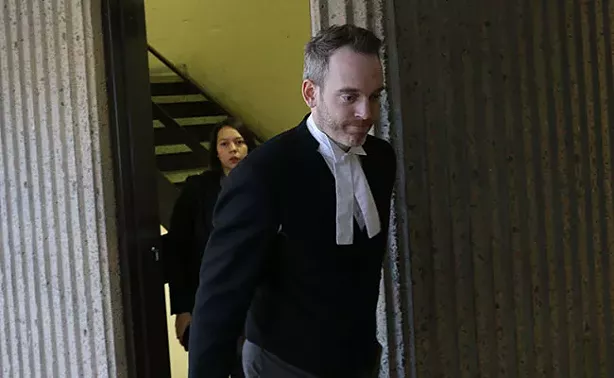 As Randy Riley got up to exit the courtroom for the last time in his first-degree murder trial, he blew a kiss to his aunt, who blew a kiss back. Moments before, he had been convicted of second-degree murder.
Riley, 27, was charged in 2013 with the shooting death of Chad Smith, who was killed with a sawed-off shotgun while trying to deliver pizza to an apartment in Dartmouth.
Both men leave behind two daughters.
Nathan Johnson, a Crown witness during Riley's trial, was also charged with killing Smith. He was found guilty of first-degree murder in 2015.
Paul Smith, of no relation to Chad, was also a witness in Riley's trial. He testified that Riley said he had a problem with Chad Smith from a fight years ago.
On the night of October 23, 2010, Smith said he picked Riley and Johnson up and dropped them off near where the murder would take place.
He also testified Riley had stopped to pick up a "thing" or a "gun"–there was some backtracking in Smith's testimony on this where he said both terms, and ultimately didn't remember. Smith testified Riley returned to the vehicle with something in his pants and was wearing surgical gloves.
Under cross-examination by Riley's defence lawyer, Trevor McGuigan, Smith said he didn't remember a lot of details and admitted to filling in the blanks on what happened when he first spoke to police.
Both Smith and Johnson were declared "unsavoury witnesses" during the trial—a term which means the jury is told to treat their testimony with great scrutiny.
Johnson, who is also serving a life sentence for the first-degree murder of Chad Smith, after being tried separately, took the stand during Riley's trial and to the surprise of the Crown said Riley had nothing to do with the murder.
According to Johnson, he acted alone the night of the killing while Riley was at home. The Crown attempted to dismantle this statement by showing that Riley's phone was pinging cell towers all over Dartmouth, Halifax and Bedford. They said this proves Johnson was wrong about Riley being at home that night.
After he murdered Smith, Johnson said he went to his girlfriend and told her it was the other two men who were the killers. He had only hidden the gun in a drainpipe close to the apartment building.
On the stand, Johnson said he was merely trying to spread rumours so he could get away with the crime. He was still trying up until July of last year when his appeal was rejected.
Since Johnson was compelled to come to court in Riley's trial, he said he decided to come clean and tell the truth.
The Crown lawyers, however, suggested Johnson was still Riley's friend and that he was trying to take the charge.
"Fuck Randy," Johnson responded in open court.
In his closing argument to the jury, 
McGuigan said the trial had become about witness credibility.
"This case turned into, essentially...an attempt to discredit Nathan Johnson," said McGuigan. "The Crown has not presented a single piece of evidence connecting Randy Riley to that scene."
A day after the verdict was released, 
McGuigan writes via email that "the outcome is extremely disappointing and frustrating for
Mr.
Riley and his family."
While he acknowledges the jury's nearly 28 hours of deliberation, McGuigan still feels the verdict of second-degree murder is unrealistic and difficult to swallow.
"I feel strongly that the Crown did not come close to proving
Mr.
Riley's guilt beyond a reasonable doubt," he says, noting he's confident Riley will appeal.
"Of course we can't rule out the possibility that race played a role, given the circumstances of this case and the strange verdict."
During the jury's deliberations, Elizabeth Riley Drummond, Riley's aunt, spoke to reporters about what the family has been experiencing over the course of the trial.
"We would not have been here so consistently did we not believe completely in his 
innocence," she said. "We know this child. He's not capable of anything like that."
Because the jurors, lawyers and judge in Riley's trial were white, Drummond says "the cards are stacked against him" as a young Black man.
"I don't like to play the race card, but it's there for everyone to see."
El Jones attended the trial nearly every day and sat on the cold concrete floor of the courthouse for four-and-a-half days with Riley's family as the jury deliberated.
The activist and women's studies chair at Mount Saint Vincent University knew Riley before he was charged with murder.
"I can say that the family truly believes this is a wrongful conviction that speaks to the extent of systemic racism in this province," she writes in a written statement, given to The Coast a day after the verdict.
"That the jury found guilty on a verdict that cannot fit the facts of the case demonstrates how willing all-white juries are to convict Black men no matter what," Jones writes. "Randy told us what he most wanted from the trial was to clear his name in front of his and family and friends, and he has done that."
Both families, as well as Jones, expressed feelings of sympathy for what each other are going through. However, Jones said she was shocked to see Riley found guilty.
"I think that everyone in this province should be alarmed at this verdict."
Many of Riley's family members were in tears after the verdict was read. At first, the jury floor-person read out the "not guilty" verdict for first-degree murder. There was hope, and relief, from Riley's supporters that he would be free. Then came the guilty charge
for
second-degree.
Riley's family wasn't able to comment after the verdict was delivered, but during
deliberations
Drummond did express sympathy for Chad Smith's family
"Our hearts go out to the family of the victim. Nobody should ever have to go through that kind of tragedy," she said.
Smith's family has been attending court since his death in 2013, beginning with the preliminary inquiry. Speaking for Smith's mother after Riley's conviction, a family spokesperson said justice had been served.
The family decided against attending court the day of the conviction out of respect for Riley's family.
"It's difficult for them because they have lost somebody too," said the family spokesperson, "but losing a son is like a life sentence to [Smith's mom] and he can't speak for himself." As part of her statement through the spokesperson, Smith's mother said "closure" is the worst word to use in these cases.
"You don't get closure when your child is killed."