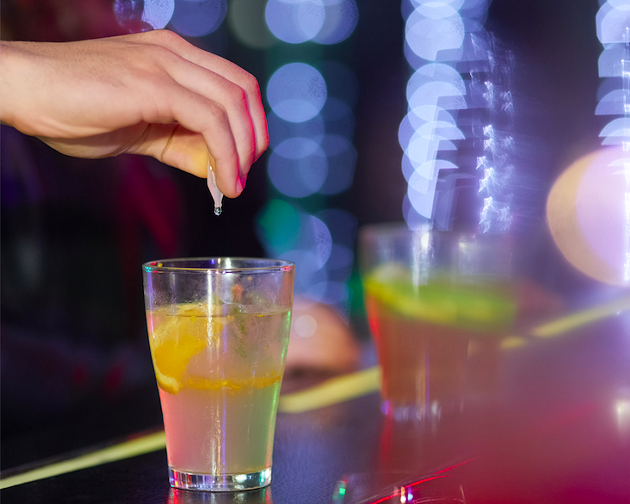 Three different women have now come forward suspecting someone put rape drugs in their drinks while at popular north end bars.
All three incidents occurred in the past two months. The Coast has agreed not to use the women's real names for their privacy.
On Sunday, January 14, 25-year-old Michelle and her friends and coworkers were eating at a busy Chain Yard Cidery on Agricola Street. Michelle only had half a glass of cider when she got up to use the washroom. She returned, ate and finished her one drink.
Standing up to leave a couple hours later, she says she felt "pretty drunk" for just one glass of cider. She doesn't remember her boyfriend driving her home; just waking up imagining she'd slept for hours when it had really only been 45 minutes. She became violently ill before stumbling back to bed and sleeping "like a rock." She woke the next morning in a haze, remembering almost nothing. She was groggy at work, thirsty all day and had a pounding headache. All from one drink, surrounded by a substantial meal.
A colleague—a former paramedic—recognized the symptoms as sounding like the date-rape drug GHB.
A few weeks later, on February 10, Sara went dancing with friends at the Seahorse Tavern on Gottingen Street for
retro
night. She blacked out while on the dancefloor, waking up the next morning shocked to find herself in her own bed. She couldn't remember paying or how she got home. Sara's friends didn't remember anything amiss about her behaviour the prior night.
"That's terrifying to me," she says. "If I hadn't been with a really good group of friends...I could've ended up in a very different place at the end of the night."
Sara, 42 and herself a bar employee, knows what a hangover feels like. But this was different. She could barely lift her head. She had to call someone to cover for her at work. She was wrecked for three days. Eventually, she told a few friends she suspected she was drugged.
Three weeks ago, on February 28, Jessica was attending a show at Gus' Pub surrounded by people she knew and recognized from the neighbourhood. The 31-year-old says she wasn't drinking heavily. But suddenly she went from being a bit tipsy to "hammered" within minutes.
The last thing Jessica remembers is losing motor function. She couldn't even use her phone. She stumbled a ragged path to her boyfriend's place, not far away. When she arrived, she was unable to even put her key in the door. Her boyfriend buzzed her in, later finding her "walking up against the wall" on the stairs, moving in slow motion.
The next morning, she found her clothing in a pile in the bathroom. She was shocked to find she had defecated and urinated on the floor and her clothes. Hours into the morning, she was still confused and foggy.
Jessica contacted Gus' manager, Simon Fraser, who reviewed video footage of the night and invited her to see it for herself. The video didn't show anyone going near her drinks, but that doesn't mean it didn't happen, says Fraser.
The bar manager has informed all staff and security guards to be on the lookout for men who may be dangerous, and for women who might be in trouble.
Mike Lim,
operations
manager at Chain Yard Cidery, first heard the details of Michelle's story this week. He says the company has contacted the police, but video footage from that night was unfortunately already written-over several weeks ago. The business tends to wipe their camera footage at the end of every month for space. Lim says he is now working on reaching out to the people who were there that night in January, and that staff at Chain Yard are also going through additional training to recognize signs of drugging and intoxication.
Sam Campbell, chief of the QEII hospital's emergency department, says he's not aware of a spike in tampered drinks over the past two months in Halifax. More troubling, perhaps, is how common those cases are. Once or twice a month, he estimates.
"Which means it probably happens 20 times," for every case brought into the hospital. And he's only one of 30 physicians seeing patients.
"It's horrendous."
Last week, Campbell saw a patient he suspects was drugged on a night out drinking moderately with friends. The last thing the woman remembered was being at a bar. She woke up in a community 35 minutes outside the city she has no connection to, alone, with no memory of why or how she'd gotten there.
"The drugs that are commonly used, usually have properties that make you forget," Campbell explains.
In each of the stories reported above, partners and friends of the women affected say they didn't notice anything 'off.' This isn't uncommon.
"During that period they might've been quite functional," confirms Campbell.
Surprisingly, the ER doesn't test for chemicals associated with suspected drug-facilitated sexual assaults (DFSA): including Rohypnol, GHB and ketamine.
"It's actually really difficult," Campbell says. The time limit on detecting "date-rape" substances is short. The tests also aren't reliable and react with other commonly used drugs.
Halifax Regional Police say they haven't received any recent complaints "of this nature," but warnings
have been circulating all week on Twitter
, right before one of the busiest days for bar business in the entire calendar—St. Patrick's Day.
Police spokesperson Carol McIsaac still encourages women to report their stories to authorities, even without positive lab results or other evidence.
"Even one report such as this is disconcerting to us," she explains. "We just want to know these things are happening so crime analysts can spot any trends."