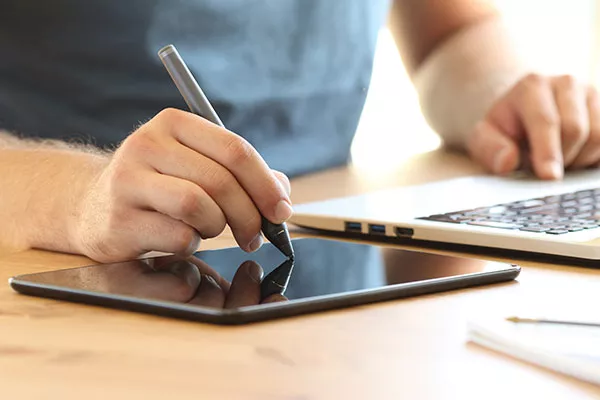 Aaron Sanford grew up watching movies and playing video games. She considered digital media a large part of her culture and who she was. Yet instead of pursuing her dream career in the digital arts, she spent years working in customer service.
However, once Sanford participated in Katimavik – a non-profit organization offering young adults the opportunity to gain valuable life skills through professional experience in volunteerism – she realized she needed to drop customer service in order to follow her passion. Sanford heard through a colleague about daVinci College and their focus on the technical arts, and after some research, she realized it was the most appealing program out there.
"Before I started at daVinci, I wasn't entirely aware of the number of studios or the growing game industry that exists in Halifax," Sanford says about the connections made through daVinci College. She is specifically aiming towards the video game or film industry and is currently studying animation for games, film and visual effects at daVinci.
2D/3D Animation and Digital Art is a two-year diploma program focusing on the technical skills needed in digital media. The program allows students to work with industry standard software in learning classic and 3D animation techniques.
"Our instructors have industry experience and help us to learn the etiquette of dealing with other professionals. They give us direction on how to properly approach future employers in the respective industries we are trying to enter," says Sanford. She is at the point in her school career where she and her classmates are prioritizing developing portfolios and working towards their career focus.
The animation program offers teachings in a wide variety of techniques, which Sanford says can be difficult to balance but is worth the range in portfolio pieces. She spends long days putting in the time and effort towards her projects to ensure the best quality products, and it shows. "With this program, I have gained confidence in myself for my future in the workforce. Seeing my own personal growth, and producing work of a high standard, I feel like I can enter a field that I am passionate about," says Sanford.
In Halifax's growing game industry, it's important to have a niche but also to present yourself as a person with multiple talents. The environment presented to Sanford through daVinci helped put her under artistic pressure, where she could work well within deadlines, while fostering creative ideas for future projects. The instructors prepare her in every way so that she has the best possible chance to successfully enter this field.
"The workload is heavy, and expectations that the instructors put on you are high, but this is what helps you later with the industry. This work is based off of the merits of your work, and is integral to getting the job you're looking for." This program may not be for everyone, says Sanford, but if you're passionate about creating things, daVinci is the environment for you.