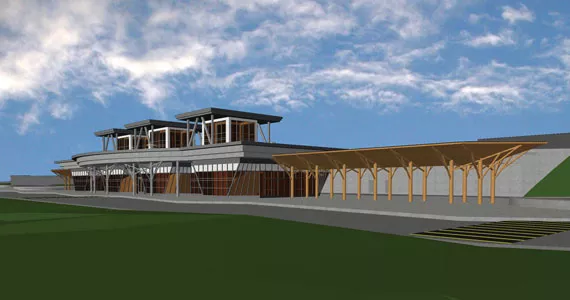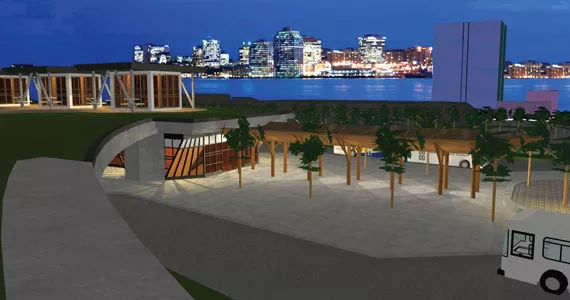 Dartmouth residents like the design for a new, expanded Bridge Terminal, but dislike its location on Dartmouth Common land.
Architectural drawings for the new transit terminal were revealed at a public meeting at Dartmouth High School Monday night. The proposal stretches the terminal between Nantucket Avenue and Thistle Street, through what is now the wooded "urban wilderness" park behind the Sportsplex parking lot.
The existing Bridge Terminal is already the busiest transit terminal east of Montreal, and the proposed expanded terminal is very large indeed---stretching over 700 metres feet long, it will serve 17,000 commuters daily. There will be 16 bus bays, and a bus parking lane along the length of the back, eastern, wall. The terminal building itself will be three times as large as the Portland Hills terminal building, and will include seating, washrooms and a concession stand.
Early proposals for the terminal oriented it east-west, parallel and adjoining Nantucket Avenue, but in response to complaints that such an orientation would bring it too close to Dartmouth High, the plan was re-worked into its present north-south orientation. That brought its own set of design challenges, however, as people walking to the terminal from adjoining neighbourhoods would have to cross the buses' paths.
To resolve that problem and to provide a buffer between the noise of the terminal and the nearby Dartmouth High, architect Troy Scott has the terminal 18 feet beneath the existing grade leading up to the school, and provides a block-wide, curved pedestrian bridge leading to the top of the terminal building. There, three "lantern"-like entry points, two for stairways and one for an elevator, provide access to the building.
The pedestrian bridge and substantial excavation have increased costs considerably---Halifax council last month upped potential project costs from $4.5 to $9.5 million.
Residents at Monday's meeting (full disclosure: I live nearby as well) mostly felt that, so far as is possible on the site, Scott had listened to their earlier concerns and has produced what several called a "beautiful" building. Scott, who also lives in the neighbourhood, was clearly proud of the design.
But residents also felt the expanded terminal is inappropriately placed on Common land, and that the decision to place it there was made with no community consultation. "This is a fait accompli," said Dartmouth High teacher Mike Cosgrove. "We were never asked what we thought of this location, or if we had any better ideas."
The terminal proposal will go before the Harbour East Community Council in April, and the full HRM council soon thereafter. If it is approved, construction will start this summer, and likely take a year or more to complete. The public can still comment on the proposal; see tinyurl.com/bridgeterminal for architectural drawings, contacts and other details.