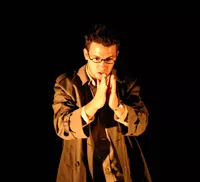 2b Theatre is in New York, remounting their acclaimed play Invisible Atom, directed by Ann-Marie Kerr and performed by Anthony Black, at the Public Theatre until January 17. Atom is one man's journey through the imagination, touching on brainiac topics like economics and classical physics. Dark and humourous, this one.
Black writes to say they're having a great time (it's New York!!) taking in shows and seeking out great restaurants (sigh). "A number of our performances have been sold out and we've had great response, including interest from presenters in places like Galway, Nashville, and Chicago. We've also been seeing some really remarkable work, including the Philadelphia-based company PigIron with their extraordinary show "Chekhov Lizardbrain", a verbatim text song cycle from Ireland called "Silver Stars", and a wonderful piece from France called "L'Effet de Serge." I wish Halifax had a presenter with enough money to bring in shows like this."
What Black doesn't mention is this incredibly ecstatic review: "I feel privileged to have been among Invisible Atom's audience members. Go see this show and be inspired, entertained and intellectually impressed."