We've rounded up 25 meals from across the city that
blow
our minds, stand the test of time and keep our cravings constant. These are the things you should absolutely have eaten, should be eating right now or should plan to eat in the near future. In the words of Thrush Hermit, which celebrates 25 years of being all right this year, "either you are in with us, or you will be out of touch."

Seafood oil sprinkled noodles
Beaver Sailor Diner, 1820 Hollis Street
Unpacking the ribbon folds of the thick noodles in this bowl is truly like opening a gift. It's topped with pork, some green onion and
chili
that gives vibrancy and colour, and there is a pile of nutty, earthy bean sprouts tucked into the bottom. But it's the crunchy sprinkle of dried shrimp that really makes this dish. There's a sort of brothy, savoury, umami flavour tinged with a fishy saltiness that, combined with the rich oil on the noodles, packs this dish with flavour.
—MB
Ahi tartare and allumettes
Bar Kismet, 2733 Agricola Street
Annie Brace-Lavoie is a big fan of steak tartare. And her undying love for the classic raw dish comes in handy for us, because it's the inspiration for this standout (read: highly addictive) small plate. Plated in true tartare style, and paired with a mountain of salty, skinny matchstick fries, the silky ahi sings with help from quail yolk, capers, shallots and spicy mayo. But Brace-Lavoie stays true to the tuna: "The star of the show is the fish itself and to overcomplicate it would be a sin."
—AS

Calamari
Mappatura Bistro, 5883 Spring Garden Road
It's like grabbing brass ring after brass ring when you tuck into a plate of Terry Vassallo's basically famous calamari. Every crisp little circle, tossed in a signature tomato sauce and accented with sweet and tart pops of olive and teardrop peppers, is a winner. This dish is a prize.
—MB

Fish and chips
Fredie's Fantastic Fish House, 8 Oland Crescent
"I still don't know, to this day, why I pulled over in the middle of a blizzard, what made me do that. I walked across the 333, knocked on buddy's door and asked to buy his trailer," says Tammy Frederick, the
Fredie
behind this fantastic fish. That was in
2005,
when she—a veteran server working downtown—was white-knuckling her way home to Peggys Cove and noticed a For Sale sign on a food truck. After taking the plunge and getting a loan, she immediately called in backup (her mom) to help her learn to cook. And 12 years later, after expanding into a brick and mortar location in Bayers Lake well before it was a bustling business park, she's still using those family recipes. "At
6am
we start the chowder, but the second thing we do is make the batter—20 buckets of batter, hand-mixed. We don't use a
mixer,
because my mother would shoot me if I did," says Frederick of the secret behind her top-notch fish and chips."And our fish comes in every single morning. We cut our own. Yvonne"—Bennett, the
Fredie's
kitchen linchpin—"the best thing the ever happened in my life, worked at a fish plant for 23 years." That haddock delivery—about 250 pounds, daily—comes straight out of Sambro and Lockeport, a non-negotiable detail of Frederick's menu, which is what makes this classic dish so perfect. "If you're going to be in this industry, buy the best—your customers are worth it."
—AS
Tokyo fries
Stillwell, 1672 Barrington Street
"Atari mayo...get it?!" Graeme Ruppel, the chef at Stillwell, writes, explaining the Japanese-style tare—a sweet and savoury dipping sauce, like the ones used for things like yakitori and gyoza—that they make and blend into their mayonnaise that gives their sauce its name. That sauce is a part of what makes Stillwell's salty, spiced Tokyo fries so ridiculously addictive. "It's loaded with glutamates," he says, calling the
mayo
a "one-two punch" with the fries themselves. "The seaweed that is used in the spice mix is also very high in glutamates, which your brain craves." Bar owner Chris Reynolds puts it more simply: "Bad fries are so sad because they are so preventable." That's why, he says, all of Stillwell's fries are prepped and cooked properly. "Starches well rinsed, cooked twice and from raw, each and every order."
—MB


Pork barbecue skewers
Mr. Bern's BBQ On The Run
Since its debut in August, this Filipino food truck—run by four buddies whose names work together to form the acronym BERNS—has been reeling in repeat customers with barbecue smoke and simple delights like these marinated, sauce-soaked, grill-singed skewers and unbelievable spring rolls. To summarize, this habit-forming meat on a stick retails for under $3 a pop and is served by top contenders for The Nicest People Ever—so you might as well grab a bouquet of 'em.
—AS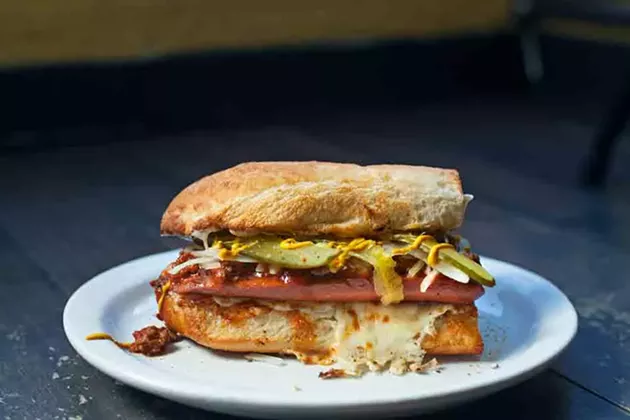 Coney Island hero
Salvatore's Pizzaiolo Trattoria, 5541 Young Street
This is, bar none, the city's greatest off-menu item. Here's the deal: a Nathan's Famous hot dog is cleaved down the middle and tucked into toasted garlic bread. Then it is topped with mustard, mayo, onion, mozzarella and a heap of Sal's rich meat sauce. If I have to write anything else to convince you that you need to eat this, you are beyond help.
—MB

Trini doubles
Doubles PLUS, Sundays at Halifax Seaport Farmers' Market,
1209 Marginal Road
Individually, bara (cumin and turmeric-tinged fried flatbread), chana (curried
chick peas
), tamarind chutney and Trinidadian hot sauce are all pretty irresistible, but stack them together into a Trini Double and holy smokes! Earthy, spicy, salty and sweet, this sandwich is like a high five in the summer and a warm hug in the winter. If you're smart, you'll double up.
—MB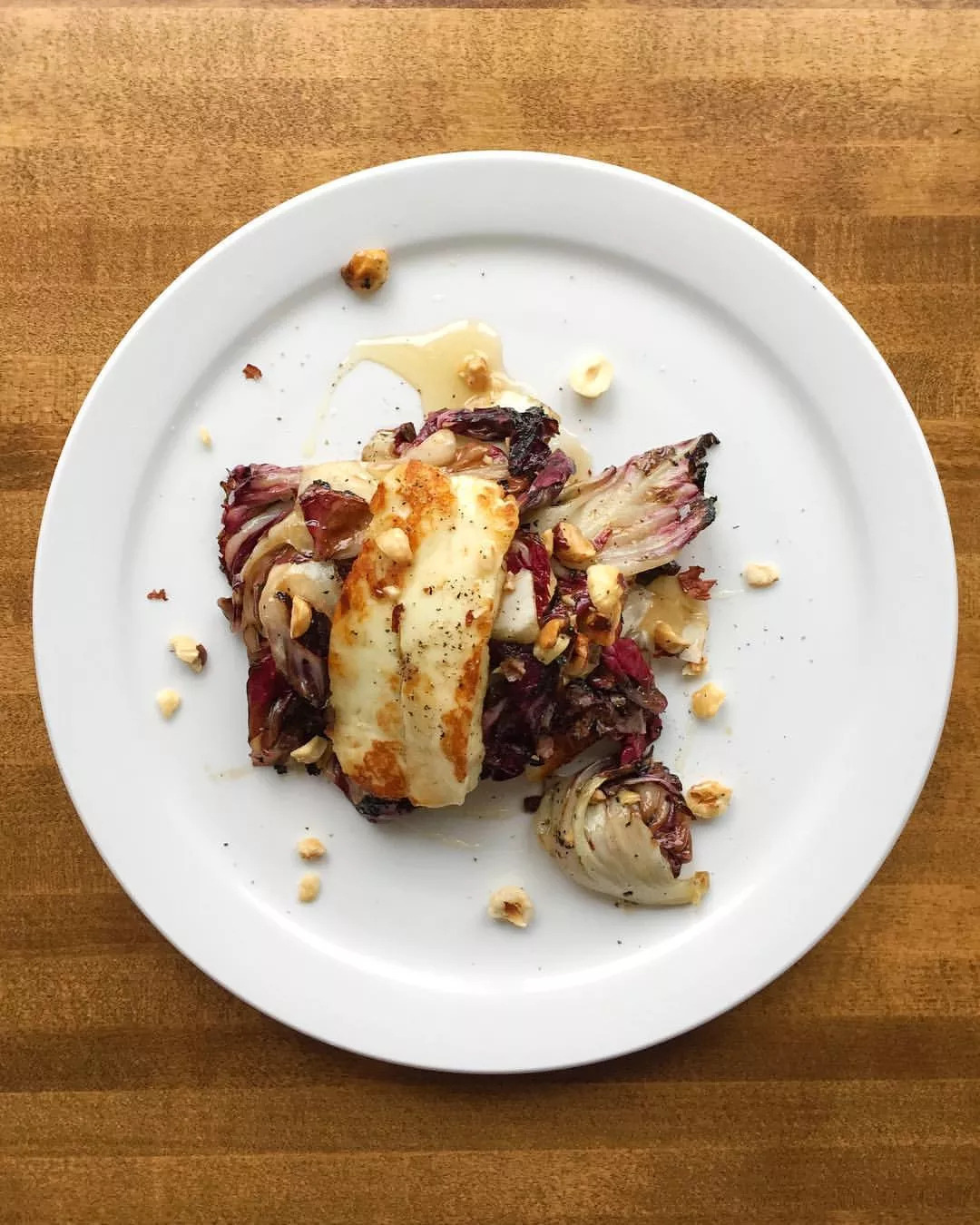 Grilled radicchio
The Canteen, 22 Portland Street
Radicchio has never needed the
icchio
less than it does on this dish. Yes, I am saying that it is rad. The combination of flavours here is bonkers, hitting every note you could possibly want, the radicchio, halloumi, honey and hazelnuts sliding up and down the scale from bitter to earthy to sweet like a Honey-era Mariah Carey vocal run. Make sure you have a side of Birdie's bread to sop up every last morsel and drip.
—MB

Double cheeseburger platter
Cousin's Restaurant, 3545 Robie Street
Gourmet burgers come and go, but a classic cheeseburger is forever. Cousins is one of the few, great purveyors of real-deal diner classics in town and their cheeseburger platter isn't just at the head of the pack, it's the Jughead of the pack. The double cheeseburger platter is the single greatest use of semantics on a menu: You are literally getting double the cheeseburger. As in TWO cheeseburgers!
—MB

Smoked salmon bagel
Bagel Montreal Style,
135 Wyse Road
With flames licking their lips, the wood-fired gods smiled upon us earlier this year when Bagel Montreal Style fired up the ovens and started pumping out bagels by the dozens. It is literally impossible to go wrong when carb shopping here, but you'll never be more right than you are when you order the smoked salmon sandwich. You can choose your bagel—sesame is always the right choice, and clearly the most popular as fresh ones are constantly being pulled from the oven—and then it's topped with a thick spread of cream cheese, thinly sliced salmon, red onion and briny little capers. Breakfast has never been better. And, quite frankly, neither has lunch.
—MB

Mozza toast
Field Guide, 2076 Gottingen Street
Whether it's flank steak or pork tenderloin, tomatoes or mushrooms, the mozzarella from Ciro Comencini's Roma Cheese sets the foundation for Field Guide's most heavenly dish. Though the
mozza
is a constant star, this isn't a totally fixed dish. The toppings change with the seasons and with the kitchen's inspiration, but one thing is certain: it's always great.
—MB

Nappa cabbage
Jincheng Chinese Cuisine, 1569 Dresden Row
Simplicity and complexity don't just meet, they meet-cute, fall in love, get married and live happily ever after in this Nappa cabbage and rice cake stir fry. Two things have never been more harmonious: This dish is crunchy and chewy and, if done right—and by "right" I mean that you emphatically order it spicy enough that you can see yourself in the red slick of chili oil and your eyes sweat while you eat it—it's so dang spicy that the hum of the chili manages to set off the subtle sweetness of cabbage in a way that lights your tastebuds on fire.
—MB


Cilbir
Robie Street Station, 2394 Robie Street
Few breakfasts in Halifax hold a candle to the Turkish-inspired
cilbir
at Robie Street Station. Garlic and dill-spiked
yogurt
is the foundation for a bright, rich combination of colour and spice: chimichurri and Aleppo
chili
butter swirl around perfectly poached eggs, just waiting for you to drag a warm slice of naan through it.
—MB
Eggplant parm hero
Rinaldo's, 2186 Windsor Street
If there was ever a hero that you should hold out for until the end of the night, it is the eggplant parm hero from Rinaldo's. The eggplant is cooked to creamy perfection, the crisp breading giving just the right amount of heft and texture to deal with the added creaminess of melted mozzarella and parmesan, aioli, tomato sauce and some leafy arugula. It's larger than life.
—MB

Spicy rice cake hot pot
Gangnam Korean BBQ, 1261 Barrington Street
This is a starchy paradise of noodles and rice cakes, eggs, vegetables and spongy fish cakes. If rice cakes aren't a part of your life, this spicy stew, warmed with the sweet, smoky heat of
gochugaru
, is the best possible introduction.
—MB


Mixed mezze plate
Efendy Turkish & Mediterranean Grill, 1569 Dresden Row
I know, I know. How can you say no to the kebab when the grill is right there, flames shooting up like fingers wrapping around the spears of savoury marinated meats and kofte, beckoning to you like something out of a Max Fleischer cartoon. Here's how: By saying yes to everything else! The mixed mezze platter is the easiest way to explore a ton of what Efendy has to offer, and pretty much everything Efendy has to offer is more than worth having. Yes, you still might want an additional full order of the creamy, irresistible eggplant saute. And you should definitely say yes to that impulse! But maybe the sweet and salty perfection of the roasted red pepper dip, the smoky char of the grilled halloumi, the creamy, garlicky depths of baba ghanoush and hummus, and the way the light prickle of heat from the
ezme
make absolutely everything it touches sing will be enough. And, you know what? That's not even the half of it.
—MB


Cabbage rolls
Janina's Cafe,
202 Brownlow Avenue

"Janina's mom believed that all food should be cooked using the best ingredients and plenty of seasonings and herbs," says Michael Minkus, the guy you probably know as the friendliest face behind one of the best counters in town. "In making cabbage rolls she stressed the importance of maintaining the right proportion of rice to meat and including, among other things, a touch of dill to the tomato sauce." That canny touch and the bitterness of the dill sings in the mild sweetness of the tomato sauce. And these cabbage rolls are the ultimate in comfort food, especially when you add one of Janina's warm, buttery rolls.
—MB

Za'taar labneh veggie man'ouche
Saj House, 19 Alma Crescent
Chirine Issa's father opened their family restaurant, Saj House, nearly 15 years ago, and she's carrying on his tradition of serving up tasty, healthy Middle Eastern eats in Fairview. A perfect example of this is her super popular stone oven baked
man'ouche
(or flatbread). While Issa makes these upwards of a dozen different ways, we recommend a
man'ouche
dressed to the nines in herby
za'taar
, creamy labneh and topped with fresh veg.
—AS

Vermicelli with spring rolls
Just Spring Roll, 5657 Spring Garden Road
"Spicy?" That's really the only question you'll get at Just Spring Roll. Until one day it's no longer a question, but a statement: "Spicy!" That's the day you know you've been doing something right with your
life,
because you've been going to Park Lane Mall's Just Springroll enough for the wonderful women there to know you want an endless spiral of sriracha topping your plate. And if you've really been doing it right that vermicelli is shored up with one thing: just spring rolls.
—MB


Mexican breakfast
Cafe Aroma Latino, 5780 North Street
Authenticity is queen at Cafe Aroma Latino. Claudia Pinto—owner, chef, one-woman-show—makes everything from scratch and says if she doesn't have the right ingredients for a dish, she just won't make it. "It's a business, but it's the culture I want to share with everyone in Halifax. Not so many people would be able to afford to visit these places. And I want to be able to share where I'm from," says Pinto of her Colombian, Guatemalan and Mexican dishes. "My recipes are not from a book, they're from an authentic place I've been. Everything you see on the menu is a staple to that specific place." Among the tacos, tamales and arepas on Pinto's roster are simple but stellar breakfast offerings, flavourful and filling alternatives to your usual eggs and toast. The Mexican Breakfast (which is under $10, by the way) plates up fresh tortillas, black beans, eggs and queso fresco with a side of an adorable cafe con leche. "I love cooking," says Pinto. And we love eating her food.
—AS

Filet mignon and eggs
Mic Mac Bar & Grill, 219 Waverley Road
When it opens at
8am
, things start off "pretty tame," says Joël Chiasson, general manager at the Mic Mac Bar & Grill. But once
11am
rolls around, "we fill up and stay filled until close." Brunch service alone sees more than 100 beautifully grilled steaks leave the kitchen: It's crazy that the food is as good as it is operating at the scale they do. "We run a full-service staff of about 15 servers and another 11 to 12 cooks plus another four to five prep cooks to get us through," says Chiasson. "Honestly, they are the ones that make it happen. Without
them
it wouldn't be possible."
—MB

Hokkaido ramen
Tako Sushi & Ramen,
480 Parkland Drive
Kevin Chen's ramen is sort of like getting a big fat hug from your favourite person ever. The Hokkaido—the spiciest member of his soup menu—even more so. In this unforgettable bowl, char siu, mushrooms, corn, seaweed, green onions and an egg all bob atop a bed of noodles and a broth that brings the perfect level of warm-you-from-the-inside heat, especially on these initial chilly days. We will take any opportunity to sing the praises of this Clayton Park eatery (and its neighbour 9 + nine) and usually add an extra egg for good measure.
—AS

Sweet and spicy chicken
Backoos Korean Food, 188 Bedford Highway
Whether it's the fried chicken or the boneless chicken from the combo, this is unmissable. The sauce is a darkly sweet, lightly spicy mix of gochujang and honey, spiced with garlic and ginger. There is so much rich depth to the flavour—earthiness and tanginess and stickiness—that it's hard to get it out of your head after eating it. The one drawback here is that this craving is hard to sate because eating it today will just make you want to eat it again tomorrow.
—MB


Dragon roll
Kitsune Food Co, 5710 Young Street
There is perhaps no other place in the city where you can have more faith in a chef making your choices for you than Kitsune, where Ami Goto is personally serving up some of the city's most beautiful Japanese food. It can be hard to choose between all of the beautiful options Goto sources from sustainable seafood superstars
Afishionado
, so indulge in a bunch at the same time by ordering the Dragon roll, which combines the crispness of a plump tempura shrimp with silky unagi and pastel slices of salmon. With creamy green avocado and bright pops of tobiko, it's one of the prettiest
plates
in the city, and one of the tastiest, too.
—MB


---

What's your favourite crave-worthy meal in the city?
Dish in the comments below.