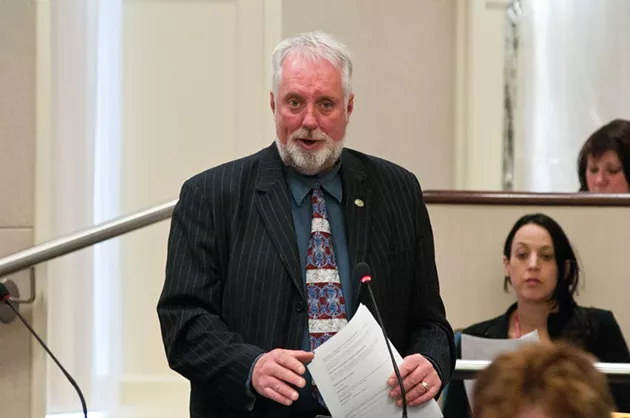 The Coast sent all 53 candidates running in HRM's municipal election the same 15-question survey in order to help their residents and our readers know a little more about who's running for council. Here's what David Hendsbee from Preston—Chezzetcook—Eastern Shore sent back.

———
Why should residents of your district vote for you?

I am the only candidate with extensive political experience and proven commitment to the communities of District 2. I have the reputation of being visible at many events and functions and being accessible at any time to discuss local concerns and issues.
What's something you wish people were talking about more this election?

More community engagement about the impacts of the Green Network Plan in rural HRM.
What's the last thing you Googled?

Besides using Google Maps to track my travels throughout my district, I looked up the various Canada 150 federal funding programs.
What's the most accurate criticism someone's made about you?

Too much of a perfectionist to detail and sticking to process.
What was the first concert you ever went to?
Burton Cummings—"Stand Tall" tour at Halifax Forum, 1976 (just Googled that to confirm year).
What was the last movie you didn't finish?

In the theatres I stay to the very end of every film. But at home I often fall asleep before the end of them while watching TV. Too many to name.
What pisses you off?

Beside candidate surveys and questionnaires: inaccurate statements in the media.
What's changed the most in your district since 2012?

Municipal funding for Rural Transit programs, and changes to the general tax rate to build and support local communities facilities and infrastructure so local area rates are now eliminated.
What's a specific moment in politics or your professional life that you really regret?

Not getting HRM Council to remove the Regional Plan Urban Reserve Designation on the NS Home for Colored Children lands in Westphal.
What's the last thing that made you really laugh?

Watching CBC, 22 Minutes.
What's your go-to meal when cooking?

Spaghetti and meat sauce with garlic bread.
What worries you the most about the Halifax Regional Municipality and the issues it's facing?

Too much time being taken up on consultations, studies and staff reports. Need to implement strategic programs such as widen certain transportation corridors for dedicated transit lanes and bikeways. And double the number of Park & Ride Terminals to advance public transit goals. Also we need better telecommunication/broadband infrastructure to improve internet connectivity in our rural areas.
How would you describe your opponents in this race?

Inexperienced and naïve about municipal governance.
What's something you don't know, but want to learn?

To be more social-media friendly.
What do you promise NOT to do if elected?

I will not become invisible nor inaccessible.