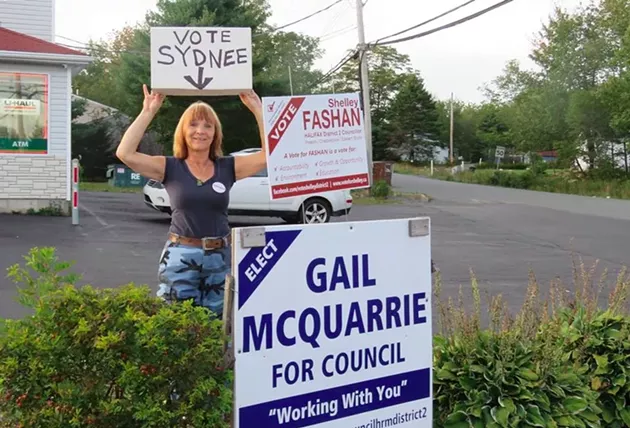 The Coast sent all 53 candidates running in HRM's municipal election the same 15-question survey in order to help their residents and our readers know a little more about who's running for council. Here's what Sydnee L. McKay from Preston—Chezzetcook—Eastern Shore sent back.

———
Why should residents of your district vote for you?

Because I am fighting hard to keep chemical out of our forest so future generations can enjoy it as I did. Check out the group Stop Spraying in Nova Scotia on Facebook.
What's something you wish people were talking about more this election?

The environment, children and the elderly.
What's the last thing you Googled?

"The Coast, Halifax Reality Bites Blog."
What's the most accurate criticism someone's made about you?

Slow down, you're ADHD.
What was the first concert you ever went to?
Cher with my daughter Amy.
What was the last movie you didn't finish?

Rock of Ages

What pisses you off?

Arrogance and people who think they are better than others (same thing, I guess). Also, when people correct what I say when they know what I mean. This happens a lot. I get words mixed up, but people usually know what I mean.
What's changed the most in your district since 2012?

Since I am a person who likes it outdoors, I am finding young folks are using the trails and the beaches more. They seem to also be more interested in taking pictures of nature. This is a good thing. I would like to see everyone get out more.
What's a specific moment in politics or your professional life that you really regret?

I really have no regrets. Regrets are not healthy. I am proud of where I came from and what I have learned. If you have regrets, it means you have not made amends or learned from your mistakes. We all have a different journey. At the moment, I have no regrets.
What's the last thing that made you really laugh?

Okay, I do yoga dance for relaxation and exercise. I was in my exercise room doing my yoga dance, when I looked in the mirror and saw my friend Paul copying my movements in behind me. He is much taller than me and this looked hilarious. It was the funniest thing I had seen in a long time. I actually peed myself laughing. It was the biggest belly laugh I had had in a long time. It still makes me chuckle but not pee.
What's your go-to meal when cooking?

Omelet.
What worries you the most about the Halifax Regional Municipality and the issues it's facing?

I worry about our environment. We need to look after it or we will not exist.
How would you describe your opponents in this race?

David: still a little shy from when he first got in. Not everyone may see this, but I remember the year he got in really well. I actually voted for him and went to his after party at the Porters Lake Pub.
Shelley: I met her in person at the protest Monday. We spoke for a short time. I found her very kind, gentle, caring and soft spoken. I believe she would make a great councillor.
Gail: I have known Gail all my life. I like Gail. She is really competitive more so than I am. I wish her all the best in this campaign."
What's something you don't know, but want to learn?

I want to know how to speak in public without being scared to death.
What do you promise NOT to do if elected?

I promise not to give up my commitment to fight for a clean and healthy environment. This includes convincing folks to farm and buy local.