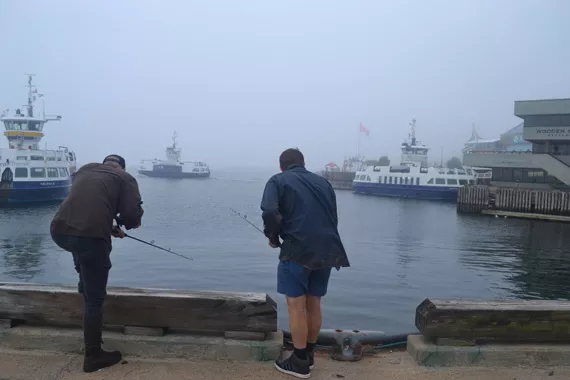 Leaning over the wooden ledge of the boardwalk, Andrew Hunt preps one of his many fishing rods with a shrimp-like lure—a tackle suited for squid.
"Those are huge!" he says, as he jigs his line near the tentacled shadows below the surface, waiting for them to take notice.
Hunt, a local artist and graphic designer, is hoping to catch at least one. An old friend is in town, and he's never been squid fishing before.
It's midday on the Dartmouth waterfront, right beside Alderney Landing. The ferry is dropping off Dartmouth-goers and picking up those destined for Halifax. The motor is loud, wreaking havoc on the surrounding water. Just metres away, several squid propel themselves around the Dartmouth wharf. Their motions are seemingly aimless. None are biting.
The best times to fish, Hunt says, are early in the morning and late in the evening (that's when they feed). The in-between isn't as promising, but hey—sometimes it's just nice to get out. Catching something for dinner? That's a bonus.
But wait...isn't it gross to eat something caught in a body of water you're not even advised to swim in?
The answer is yes—and no.
Hunt has been an avid fisher for the last eight years, and although pollution in the harbour is an undeniable concern, he says it's about knowing what to keep and what not to.
"I steer clear of anything that would be sticking around in the harbour like eels or ground fish," he says. Shellfish is a definite no, along with lobster.
"One of the most disgusting things I saw when I was on the waterfront was a fishing boat come right by the boardwalk and pull up a fucking lobster trap," he says. "Those things are bottom feeders, so they eat all the trash and crap that's on the bottom."
The idea of eating from the harbour may elicit shudders, but the truth is it isn't so bad. According to Fisheries and Oceans Canada, the only illegal catch in the harbour is bivalve molluscan shellfish (so oysters, scallops, mussels) because they filter through the water for plankton, picking up harmful biotoxins, bacteria or viruses. It's completely legal to catch lobster and other fish in the harbour.
But if time allows, why not get further away from the city and as close to open ocean as possible? St. Margarets Bay, Cow Bay and Fisherman's Cove are all within the city limits, but are far enough out to put Hunt's mind at ease.
"I'll take flounder from beyond Fisherman's Cove, but anything closer than that I wouldn't ever keep," he says. "Because they lay around in the muck and just kind of eat whatever falls down there."
Mackerel, squid and pollock are his go-tos, but he'll fish for striped bass and gaspereau when in season.
OK, so the harbour is nobody's dream fishing spot, but there are some serious benefits to fishing hyper-locally. For one, a license or permit isn't a prerequisite for tossing in a line. Those are limited to fresh water and commercial ocean fishing. Fishing in ocean-fed waters for leisure or sport is fair game.
By far, the most appealing feature is proximity to home (if you live in the city, that is).
"You can get out quickly and see if the fish are running, and then catch some without having to make this giant trip," says Hunt. You're able to fit fishing into your everyday routine.
Trying again at night, Hunt and his friend make the eight-minute drive to the wharf. They are hoping that this time, the squid are as hungry as they are. They reel in an easy five squid within the first 10 minutes, and then the bites stop coming—a nod to the unpredictable nature of the sport. After over an hour of waiting, they pack up their prize and head back to the house for some calamari.