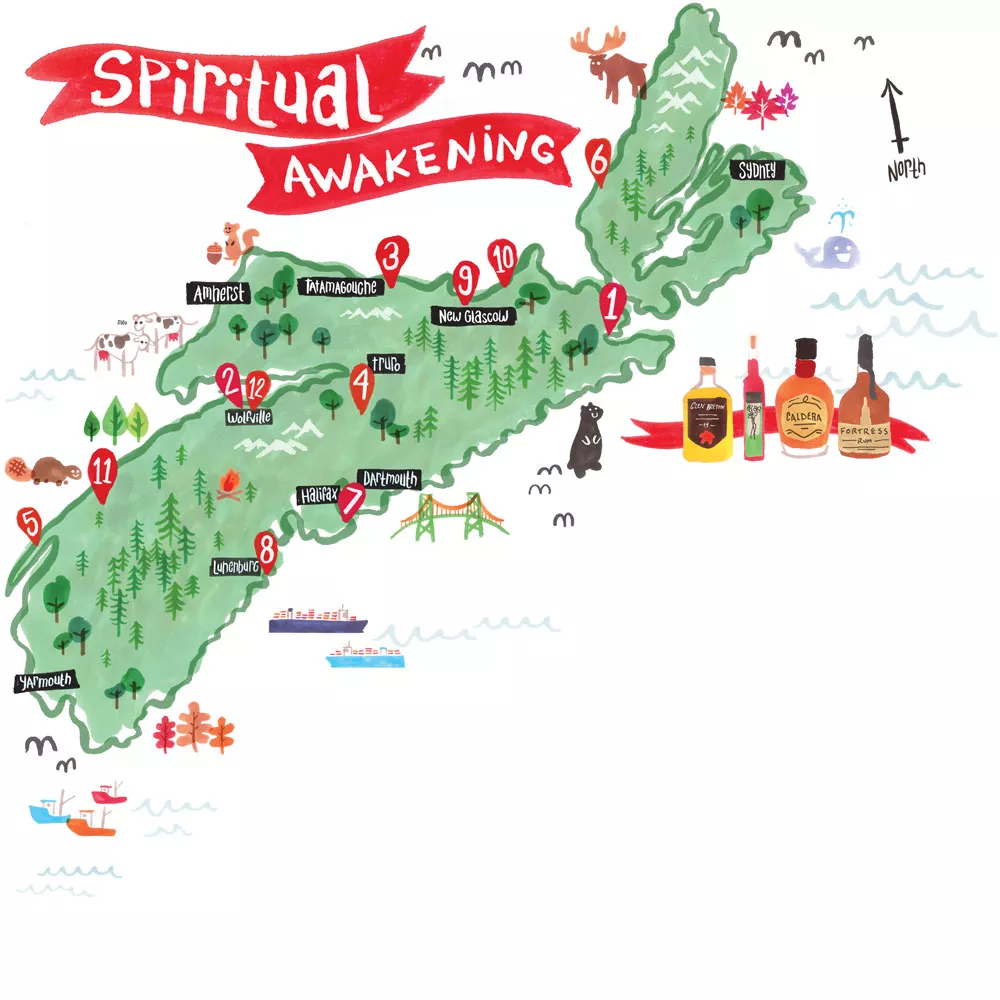 1. Authentic Seacoast Est. 2012, 80 Main Street, Guysborough authenticseacoastdistillery.com Inspired by Guysborough and Nova Scotia's long history in the rum trade, Authentic Seacoast is known for its wax-sealed amber Fortress Rum and a trio of Sea Fever labels—amber, spiced and coffee maple—along with its vanilla-tinged Glynnevan Whisky.
2. Barreling Tide Distillery Est. 2014, 1164 Parkway Drive, Port Williams barrellingtidedistillery.com Its line of products includes vodka, gin, and a handful of fruit liqueurs made with berries grown in the Annapolis Valley. Barrelling Tide is also planning a release of apple brandy and rye in the future.
3. Caldera Distilling Est. 2013, 65 River John Road, River John caldera.ca Pouring up smooth whisky, both its namesake Caldera label and the Hurricane No 5, along with a full-flavoured dark rum. It's all in the details for Caldera, which grows its grains right on the distillery's property—the gorgeous label for its Hurricane No. 5 is made of birch.
4. Coldstream Clear Distillery Est. 2015, 87 Main Street W, Stewiacke coldstreamclear.com While Coldstream has a couple of vodkas, it's the extensive line of liqueurs that sets this distillery apart. It has creative flavours like salted caramel, coconut, coffee and apple pie, and warm winter flavours like cinnamon, peppermint and candy cane.
5. Covenhoven Distillery Est. 2015, 311 Old Post Road, Sandy Cove instagram.com/covenhovendistillery Located on a Sandy Cove farm (near Digby) this newb is producing rum, whiskey, vodka and gin and aims to have product available in stores in early 2017. Right now it's just a production facility, but next year Covenhoven hopes to have a distillery that will be open for tastings.
6. Glenora Inn & Distillery Est. 1990, 13727 Route 19, Mabou glenoradistillery.com Glenora was the first single malt whisky distillery in North America. By this point nobody in Nova Scotia is unfamiliar with this company. It sells 10-Year, 14-Year, 19-Year and 25-Year aged whiskies and a slew of awards but also boasts the first single malt finished in ice wine barrels, really doubling down on being Nova Scotian.
7. Halifax Distilling Co. Est 2014, 1668 Lower Water Street, Halifax halifaxdistillingco.ca After honing their skills at the Prince Edward Distillery (established in 2007), the folks behind this company brought distilling to downtown Halifax. Halifax Distilling Co. is producing small batch white, gold, black and spiced rum.
8. Ironworks Distillery Est 2008, 2 Kempt Street, Lunenburg ironworksdistillery.com A micro-distillery that is doing a pretty wide range of macro-quality products, from rum, gin, vodka, and brandy to small batch liqueurs, grappa, and its signature eau-de-vie with a whole pear grown in the bottle.
9. Nova Scotia Spirit Co. Est. 2015, Trenton, Pictou County nsspiritcompany.com This company is really leaning into their Nova Scotia roots with product names like Blue Lobster Vodka, Fisherman's Helper White Rum and Willing to Learn Gin. It'll be launching some cucumber-infused gin and barrel-aged rum and gin for the holiday season.
10. Steinhart Distillery Est. 2012, 5963 Highway 245, Antigonish steinhartdistillery.com Its line is punctuated by brightly flavoured gins and vodkas, using strawberry, cranberry, hasp, maple and habanero. Steinhart also makes organic vodka, and brought home medals at the 2016 New York World Wine and Spirits Competition and 2016 San Francisco World Spirits Competition.
11. Still Fired Distilleries Est. 2014, 9543 Highway 8. Annapolis Royal stillfireddistilleries.com After starting with corn-based vodka, Still Fired has added flavours like vanilla and Thai chili to the mix. This valley distillery is also going the classic route and producing a couple of Moonshine labels, one of them mixed down with local apple cider and spiced like pie. Also, just added gin to their roster.
12. Tangled garden Est. 1991 as herb company 11827 Nova Scotia Trunk 1, Grand Pré tangledgardenherbs.ca It only made sense for Tangled Garden to make liqueurs to include in its line of jams, jellies, and vinegars. These unique flavours include Damson plum spiked with sweet basil and pear with a hint of rosemary, just to name a few.