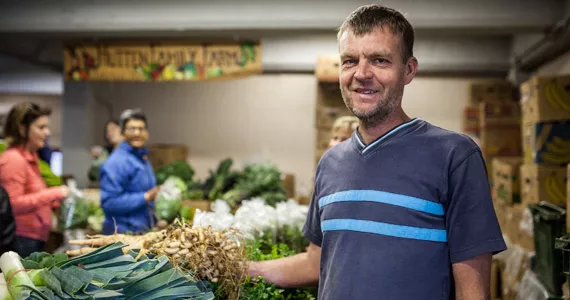 Every Saturday morning, you can count on spotting Ted Hutten somewhere near his table in the well-worn corridor of the Historic Farmers' Market. Tall and wiry, you'll see him setting out the soft green pints full of wrinkly yellow zucchini blossoms or baskets piled with blushing apples that line his table. Or maybe he'll be handing you a bunch of carrots, beets or pak choi.
In Lakeville, at the foot of North Mountain, the Hutten Family Farm grows everything from artichokes to zucchini, classic Canadian crops like beets, onions, squash, and carrots. But there are also some surprises for the uninitiated: cardoon, hakurai turnips, mizuna, tatsoi and fresh ginger got everybody talking this summer.
"The ginger I grew this year was incredibly satisfying," says Hutten. "It's not going to make me a wealthy man, but it was fascinating to grow and the customer response was unbelievable."
Ginger isn't the only crop that people have been excited to see grown by Hutten--- he has also been experimenting with peanuts. His inspiration for the seemingly random crops comes from all over the place. "Ginger wasn't actually my idea," he says. "There are a few other farms that are playing with it. Peanuts I have been doing it for a few years; I do a lot of Asian vegetables, and peanuts I thought would be interesting just in terms of Thai food---kind of an interesting add on."
Interesting is what interests Hutten. So his next move was jícama. "It's a Mexican yam bean," he says. "That one my daughter, who is 18, was eating some interesting vegetarian food---she brought jícama home and it was great. I Googled it and it said it was impossible to grow it here."
While interesting means a lot, impossible doesn't mean much to Hutten. He went ahead and grew the jícama in an unheated cold frame. "That was kind of neat this year. Ginger is truly tropical and needs greenhouse production, but jícama has the potential to actually be a field crop here. I will field-produce jícama next year---whether that will be good enough to sell is yet to be seen," he says. "If I can grow it in the field and grow it to a quality that I can keep it I think that could be a pretty cool crop."
Cool crops are something Hutten has increasingly become known for, but they aren't necessarily his bread and butter. "I always try to find a balance between things like carrots---things I know I can grow and make money on---and things I am interested in. As long as you can pay your bills, you can play around," says Hutten. "I think peanuts, ginger, jícama...I think there's an opportunity there to definitely set your business apart and to make some money."
Unlike ginger and pak choi, which Hutten knows have pretty general cross-cultural appeal, a crop like jícama isn't exactly something that people are breaking down doors to buy. "But you get a few people who actually eat it regularly and the excitement that they feel----just to hear, "Where did you get this? You can't grow that here!!"---that interaction is really fun," he says. "Does it always pan out? No, not always," Hutten says. But that doesn't stop him. "I've tried hundreds of vegetables. Some of them I found too difficult to make money on, some I found lucrative and some I found not viable."
Next year he hopes to grow nuts, and he's also getting seeds for chickpeas. "Fresh chickpeas are a totally different animal than the chickpeas people are using. So I think that opportunity is neat.
"I have more ideas than I have land," says Hutten. "I like it. I find it challenging; I find it interesting. Plants are very neat, trying to find out how to make them grow. But you definitely need to balance interesting with making a living."