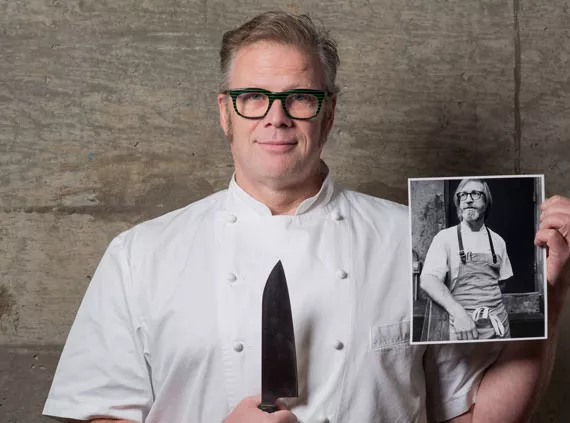 "A lot of people don't actually know this, but the word 'symposium' in ancient Greek actually means drinking party," says Alex McLean of Zuppa Theatre Co.
And it's a party they have planned for the last two week of March. Zuppa's Pop-Up Love Party is a contemporary interpretation of Plato's philosophical text, Symposium, which focuses on a drunken party where hungover philosophers expound on love, touching on themes of bravery, wisdom, justice, moderation, beauty and birth. While the text has been around for more than 2,000 years, McLean, who is directing, feels that it is just as relevant today as it was when it was written.
"They each have to give a toast in honour of love," he says. "Everybody does it in their own way, so there's a doctor who's very medical, and a lawyer whose speech is very legalistic, and so on. We have taken those speeches from this old dusty work of philosophy and tried to make them as theatrical and contemporary and vivid as we can for a modern audience."
Zuppa is grounded in collaboration, driven by creative exploration of stories old and new, rooted in well-trod and uncharted ground. For this performance—starring Ben Stone, Susan Leblanc and Stewart Legere—they'll collaborate with chefs on a seven-course snack menu integrated into the play. The menu was created by New York-based Daniel Burns and will be executed by Dennis Johnston.
"Obviously we usually use lighting design and sound design and things like that to heighten the theatrical content of the show," says McLean. "This show was really born out of the idea of—well the question of—'What would happen if we tried to use food in that way?'"
McLean knew that this kind of sensory experience would complement the show. "It will bring its content more to life," he says. The original idea was just to simply do a show with food. Ten years ago, Zuppa put on a show called Open Theatre Kitchen. "During that show the actors were cooking on stage," he says. "At the end of the show, we would serve a bowl of soup to the audience. That was, I guess, our first food show. But this is obviously way more sophisticated. The food feels a lot more integral to the show."
Seven small snacks will be served over the course of the 90-minute play. "We sort of based it around understanding the play and how the movement of the play and the scenes related to it," says Burns.
Burns co-owns New York's Michelin-starred Luksus—recently named by Bon Appétit as one of the US's top 50 new restaurants—and its beer bar, Tørst, recently named as a semi-finalist for the Outstanding Bar Program award at the 2015 James Beard Awards. A Dartmouth native, he and Zuppa's co-founders, Stone and Sandy Gribbin, are long-time friends.
The snacks Burns has created—like a white yogurt and parsnip mousse served on a black malt cracker that relates the contrast of love and hate—bring visual expression to certain acts. Others are less direct. "We try to link it," says Burns, "but we're not just going to make a serving of flowers because they're talking about flowers. I think you need to concentrate on the flavour and the quality of the food first and foremost, then make ties to the themes."
Burns is keeping what he calls "a tight watch" on the dishes, but Johnston will be the one to invite the audience into the process, cooking each night. "Dan knows the food is in good hands with Dennis," says McLean. "We're lucky to be able to nab both of these guys."
---
Pop-Up Love Party
March 16 (pwyc), March 18 (preview), March 19-29, 7pm
Lion & Bright, 2534 Agricola Street
$40 ($35 seniors/students)
eventbrite.com