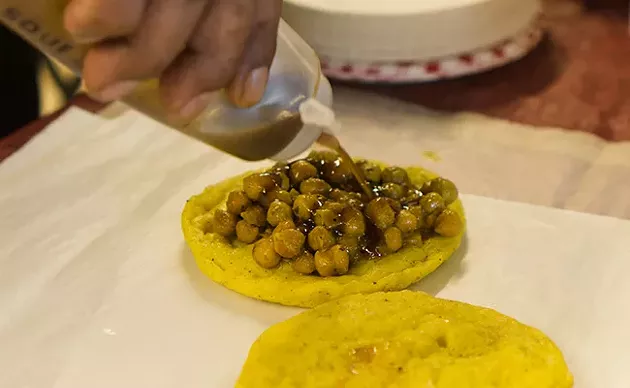 Halifax Seaport Farmers' Market
1209 Marginal Road
Sundays
Each Sunday, Doubles PLUS can be found upstairs at the Halifax Seaport Farmers' Market serving up traditional cuisine from Trinidad and Tobago.
Aleem Ibrahim, the man behind the vendor stand, says the dual-island nation is the "epicentre for food in the Caribbean." Because of the diverse range of ethnicities and cultures, dishes are often a complex fusion of east Indian, African, Chinese, Middle Eastern, Spanish and even French cuisines.
Ibrahim started Doubles PLUS in 2011 as a way to share his joy for Trinidadian cuisine. He took a break in 2012, switched to Alderney Landing Farmers' Market in 2014, but now he is back at the Seaport Market with two of Trinidad's beloved street foods: Aloo pies and doubles.
"Aloo is the Hindi word for potato," Ibrahim says. "It's a take-off from the samosa." An aloo pie consists of mashed potatoes seasoned with garlic and cumin wrapped in deep fried dough and drizzled with tamarind chutney.
But doubles are the most popular dish. They are often dubbed the Trini version of the New York-style bagel or the Levantine manakish.
To make doubles, Ibrahim spoons two scoops of curried chick peas (chana) onto a slice of fried bread (bara). He adds tamarind chutney, hot pepper sauce and then sandwiches it all together with another piece of bara.
The name originated in the 1930s when a vendor selling curried chana on bara started getting requests from customers to "double-up" on the bara, making a heavenly messy sandwich.
"The one difference between the doubles here and the doubles in Trinidad is the bread," Ibrahim says as he hands one to a customer. He makes his with turmeric and black urad beans, which is more traditional than the bread from most street vendors. The urad beans add iron and fibre, but increase cost and prep time.
For those who crave more than aloo pies and doubles, Ibrahim makes almost any Trinidadian dish for pick-up at the market if he has at least 72 hours notice. His personal favourite is curried shrimp with a flaky, buttery roti. He also enjoys using roti as a wrap for curried chick peas, chicken and potatoes.
Ibrahim says he didn't take an interest in cooking until the early seventies—for awhile, all he could make was fried or boiled eggs. Looking back, he remembers as a child seeing his mother and older sisters making roti and other dishes, which he says gave him a sense of basic cooking techniques.
When he isn't preparing doubles or aloo pies, Ibrahim enjoys experimenting with his cooking. He may add an ingredient or tweak a measurement to create new blips of flavour in old recipes. But when it comes to Doubles PLUS, Ibrahim tries to keep each dish consistent.
"I'm precise," he says. "If I cook something today and then again next week, it should taste the same. I've been making doubles for many years, and I have never come across anyone who hasn't liked them."