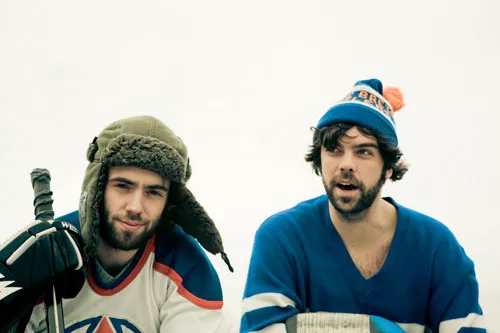 Cape Bretoners Mike Ryan and Bruce Gillis have been playing in bands together for most of their lives. The duo---featuring Ryan on guitar and Gillis on drums---formed The Town Heroes about a year and a half ago, and so far the duo seems to be on the up-and-up. They released a full-length album *Birds and Fear* last May and one of its singles, "Hidden Potential," won a regional radio competition that sent the pair to CMW to showcase on the Music Nova Scotia Stage. Now they've been christened "Best New Band" by Coast readers.
Ryan is elated when he hears the news over a bad cell phone connection on the way to a gig in Mabou. "Did you hear that, Bruce?" Ryan shouts to his bandmate. He lowers his voice and returns to the conversation. "We really didn't think we'd win at all," he says.
Halifax comedy fans may remember Ryan as Peter White's piano playing foil hosting the Sunday night Picnicface shows at Ginger's. Ryan's funny, easygoing demeanor extends to the songs he writes with Gillis, and its easy to see why they are so appealing to audiences. "We just get along really good," he says. "We both like sitting down with a cup of tea and just talking about music."
The pair is looking forward to playing the Rising Star showcase at this year's ECMAs and plans to record a follow-up album in late summer, as well as tour to Ontario. In the meantime, they'll continue writing and playing and hanging out---in short, doing the things they love best. "Halifax is our home base," says Ryan. "We're really proud to be representing the city. We'll do our best to be the Best New Band."
1st Runner-up Kuato
2nd Runner-up The Caravan