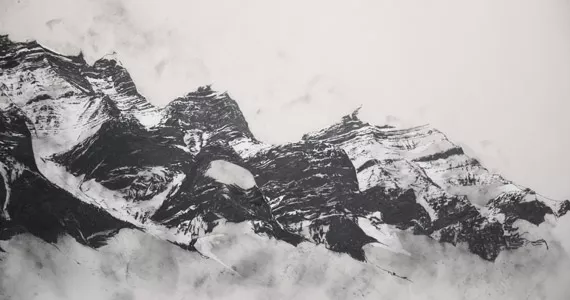 Melanie Colosimo and Charley Young, Beautiful Illusions
Opening reception Saturday, January 17, 2-4pm
To March 8
Mount Saint Vincent University Art Gallery,
166 Bedford Highway
---
The pieces in Melanie Colosimo and Charley Young's Beautiful Illusions are perfect souvenirs of place and time. Young's mountains and building facades provide a panorama, Colosimo's scaffolding and fences both hold a viewer back and draw them in. In Beautiful Illusions, curated by Mount Saint Vincent University Art Gallery's Ingrid Jenkner, the work is shown jointly—a look at landscapes both natural and manufactured. Drawing, memory, transition, liminality and a unique and labour-intensive process connect the two.
"We're both interested in temporal spaces, and influenced by Halifax and how fleeting a lot of the architecture is," says Young.
Young's "Rocky Mountain Panorama" is a detailed and roughly smudged Albertan mountain face, presented on a scroll. From an outdoor excursion-loving family, Young combined her early experiences with nature into a deeper reflection of the world around her: "I started to see the mountain as a signature—the engraved line of the mountain being a distinctive feature." Taking an "active approach to drawing"—Young's handprints can be seen in the charcoal—the portability of the two pieces has significance. "It's really like being able to take a place with you."
Colosimo's painstakingly hand-drawn and hand-cut paper fences call to mind a worn construction site, speaking to transition and a changing landscape, with a deeper root of gender politics. "It started to be more political, underneath all of it is gender issues in the workplace," she says. "Mocking the fence by making it out of paper, it becomes this fragile thing that isn't going to do anything to save or protect you, or keep you out. You can destroy it."
"Most of the fences are about this liminality," Colosimo says. "You're on one side or the other, you can see through quite get there and you can also look back."
In "Threshold," the artist's process stretched her memory. Drawing on a scroll of paper, and never allowing herself to see what she had drawn, the fence changes shape and grows. "The whole time I was trying to recreate this memory of a fence—that's why it gets bigger, loses links," she says. "It's about transition in a memory, then you get to the end and it's completely different."
Experienced together, these pieces prompt the viewer to explore, climb, peer over and through—and marvel at both the fragility of memory and landscape.
---
www.charleyyoung.com
www.melaniecolosimo.weebly.com