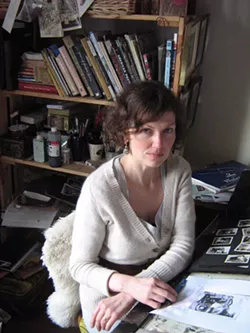 Thumbing through an old photo album never fails to open the floodgates of nostalgia, memories of love, loss, laughs and the odd creep are set off by looking at the photographic documentation of our lives.
Flipping through Snaps, award-winning author and artist Rebecca Kraatz's new book, the reader gets the same feelings. The stories and pictures aren't ours, but they are so familiar and recognizable that we feel connected to them all the same.
Kraatz is a former Coast contributor with her House of Sugar comics which were published as a collection by Hope Larson's Tulip Tree Press in 2006, winning Kraatz the 2007 Doug Wright Award for Best Emerging Talent. In Snaps, she intensifies the old-fashioned charm, even writing the book on a typewriter.
Kraatz asserts that her love of everything old is not merely aesthetic. "I've always been interested in '40s clothing, but working on this book I really realized that people can like something on the inside but they don't always have to project it on the outside."
It makes sense then, that Snaps deals so heavily with personal relationships and contemplative moments. Kraatz saw an old photo album from the 1940s at a flea market and felt compelled to buy it. "I never imagined it would lead to me doing the book. I saw it at a flea market in Victoria and there was photo of a man and a woman kissing and I thought, 'Oh, I have to buy it' because I never really see candid photos of people kissing from the '40s, it's always glamour shots,"
Kraatz says. "The book was in perfect shape but now it's very tattered from me looking at it."
Snaps branched off from this photo album, taking inspiration from the images in the book and creating touching, sometimes heartbreaking, profiles of 1940s characters. Sometimes, like in the case of Gordon and Lena—a couple separated by WWII—their stories mirror each other. Kraatz also says she used some inspiration from her family in the book—snippets of stories and remembrances of her past. She explains it is "as if you were just dipping your toe in the pond, not the whole foot. Just a bit of the story."
Halifax launch of Rebecca Kraatz's Snaps, Thursday, June 16 at The Carelton, 1685 Argyle Street. 7-9pm